Urban air mobility developer Wisk Aero has sued competitor Archer Aviation in US federal court, alleging that Archer stole trade secrets, infringed on patents and copied Wisk's aircraft design.
Wisk, which is backed by Boeing and based in Mountain View, California, filed the suit on 6 April in US District Court for the Northern District of California.
"We have discovered significant and troubling evidence indicating that Archer has been using Wisk's proprietary intellectual property without our permission," Wisk says. "We discovered the misappropriation of thousands of highly confidential files containing very valuable trade secrets, as well as the use of significant innovations Wisk has patented."
Archer, based in Palo Alto, California, denies the allegations in a statement.
"The plaintiff raised these matters over a year ago, and after looking into them thoroughly, we have no reason to believe any proprietary Wisk technology ever made its way to Archer. We intend to defend ourselves vigorously," says the statement. "It's regrettable that Wisk would engage in litigation in an attempt to deflect from the business issues that have caused several of its employees to depart."
But Archer mentions a government investigation.
"Archer has placed an employee on paid administrative leave in connection with a government investigation and a search warrant issued to the employee, which we believe are focused on conduct prior to the employee joining the company," the statement adds. "Archer and three other Archer employees with whom the individual worked also have received subpoenas relating to this investigation, and all are fully cooperating with the authorities."
Archer in 2020 released details of a four-passenger electric vertical take-off and landing (eVTOL) aircraft that would have 52nm (96km) range and fly at 130kt (240km/h). Archer is backed by Marc Lore, who has worked at Walmart.
Archer has also released images of its conceptual aircraft: a high-wing design with 12 wing-mounted rotors and a V-tail.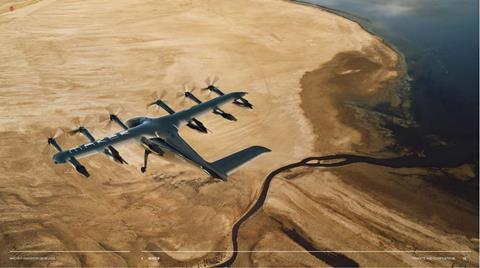 That design "appears to copy the same design that Wisk developed and submitted in a confidential patent application to the US Patent and Trademark Office in January 2020," Wisk says. Both designs include six tilting front-wing rotors with five blades each and six rear-wing, non-tilting rotors with two blades each, Wisk adds.
In February, Archer disclosed a plan to become a publicly traded company, at the same time announcing that United Airlines committed to purchase 200 of its in-development aircraft. Archer intends to reveal its aircraft in 2021, begin production in 2023 and start passenger flights in 2024, United said.
"We believe it is virtually impossible for Archer to have produced an originally designed aircraft in this timeframe that has gone through the necessary testing and is ready for certification with the FAA," Wisk says.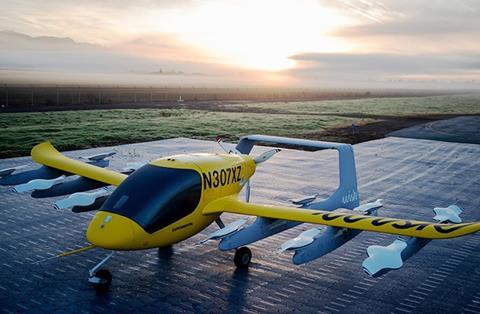 In court papers, Wisk alleges that Archer hired 10 former Wisk engineers, and that "one of those engineers surreptitiously downloaded thousands of Wisk files near midnight, shortly before he announced his resignation and immediately departed for Archer".
The "stolen files" included aircraft and system design details and test data, Wisk says.
The suit seeks to force Archer to repay damages and return intellectual property.
Wisk's 12-prop in-development aircraft, called Cora, has 22nm range and can reach speeds of about 86kt, says Wisk's website. Cora is designed to carry two passengers.
Later this year, Wisk intends to begin a trial programme in New Zealand that is intended eventually to involve passenger eVTOL flights.
As of 2019, Wisk had completed more than 1,000 test flights with several generations of prototypes. It is now developing a sixth-generation aircraft that it intends to certify with the US Federal Aviation Administration, court papers say.
Story corrected on 6 April to note that Archer, not Wisk, is backed by Marc Lore.