US air taxi developer Wisk Aero and Japan Airlines (JAL) have partnered to bring Wisk's in-development air taxi through certification in Japan, with a goal of eventually launching passenger flights there.
Under an agreement disclosed on 8 May, Wisk says it and JAL also intend to tackle challenges related to maintaining and operating air taxis.
"This gives us an opportunity to work with a partner, to develop the conversation [about] the regulatory approval process – around what operations will look like," says Wisk director of activities in the Asia-Pacific region Catherine MacGowan.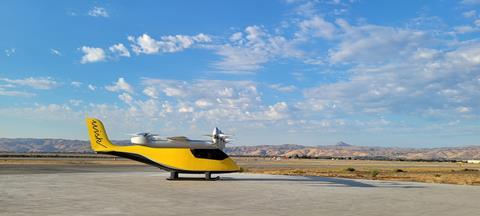 The new memorandum of understanding calls for the partners to work together to secure a type certificate from Japan's civil aviation authority for Wisk's in-development 6th Generation electric vertical take-off and landing (eVTOL) air taxi.
They will also collaborate to secure an air operator certificate, which is needed to fly aircraft commercially, Wisk says.
The deal establishes a "framework" for how the companies will engage regulators, governments and the public.
"This will include careful consideration of regulatory requirements, safety measures and how the community can benefit from advanced air mobility," Wisk says.
The companies hope eventually to conduct demonstration flights of Wisk's eVTOL in Japan, and then to introduce passenger flights.
"Wisk and JAL Engineering will work closely together to develop plans for the maintenance and operation of Wisk's autonomous air taxis," Wisk adds.
Mountain View, California-based Wisk declines to say if plans call for JAL to actually operate the eVTOLs.
Wisk's in-development 6th Generation air taxi is to be a four-seat electric aircraft that will cruise at 120kt (222km/h) and have 78nm (144km) of range, according to the company.
Generation 6 will take off vertically using thrust from 12 props fitted to booms on its wings. Six of those props will swivel to provide forward thrust.
Backed financially by Boeing, Wisk is first seeking to have its aircraft certificated in the USA by the Federal Aviation Administration. It has not disclosed a certification timeline.
MacGowan says crowded Asian cities like Tokyo are perfect markets for Wisk's air taxi. Such aircraft could, for instance, shuttle passengers between Tokyo and the city's Narita International airport.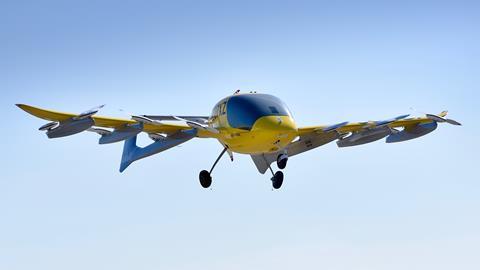 "We… see it as being a substantial future market," MacGowan says of Japan. "We see this as an enduring partnership."
She declines to say by when Wisk hopes its air taxis will be shuttling passengers over Tokyo skyscrapers, saying only, "We see self-flying technology as being something that will be operating around the world toward the end of this decade".
In October last year, the FAA said it had signed a cooperation agreement with Japan's Civil Aviation Bureau, under which the agencies plan to support the air taxi sector. Numerous companies are developing eVTOLs, though the path toward certification of such aircraft remains uncertain, with progress depending on how regulators end up overseeing the novel machines.
Wisk has already conducted trial flights using an eVTOL demonstrator in Australia and New Zealand.