Silicon valley air taxi manufacturer Wisk has flown its fifth-generation test aircraft for the first time at a public event.
Chief executive Brian Yutko and a team of Wisk employees stood on the flight line as engineers put the autonomous craft through its paces before thousands of aviation enthusiasts at EAA AirVenture in Oshkosh, Wisconsin on 25 July.
"What you just saw was a two-seat electric vertical take-off and landing aircraft take off like a helicopter, fly in a fixed-wing mode like an airplane, do multiple transitions – all at the push of a button," Yutko tells FlightGlobal. "As far as we know, this is the first public demonstration of such a thing ever."
"There is no stick and rudder. It's all codified in software onboard the aircraft," he adds.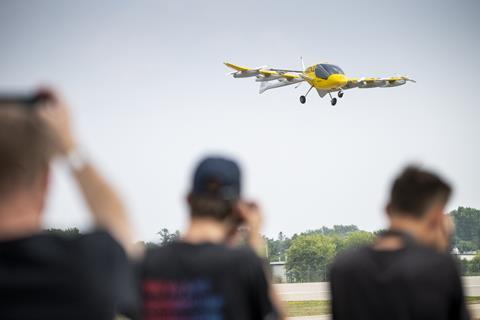 The aircraft took off and made two low passes over the runway at Wittman Regional airport, then hovered and landed. It has flown 1,700 times and made "many thousands of transitions" from hover to forward flight and back, Wisk says.
Just prior to the demonstration flight, a team of aviation safety experts from the Federal Aviation Administration visited the Wisk booth at the show. Wisk is in the process of certifying its aircraft, and the company aims to fly commercially by the end of this decade.
"There is no easy path to certification," Yutko says. "The FAA has very rigorous policies, as they should. We have a type certification programme with the FAA, and we work incredibly well and collaboratively with the FAA. We're advancing the means of compliance and continue to march towards our path to certification."
In addition to the fifth-generation craft on Oshkosh flying display, Wisk is showing off its sixth-generation aircraft at its AirVenture booth. It displayed that aircraft at the Paris Air show last month for the first time, but EAA AirVenture is the first US show at which Wisk has showcased the sixth design.
"Many of the underlying technologies between [the fifth-generation] aircraft and [sixth generation] aircraft have similarities, [so] we can learn from continuing flight testing this aircraft, even though they're very different," Yutko says. "We can continue to learn by flying this airplane."
"We can continue to learn [about] deploying autonomous systems away from our normal flight-test location, towards operational environments, and doing that in incredibly complex airspace", like above Oshkosh, Yutko adds.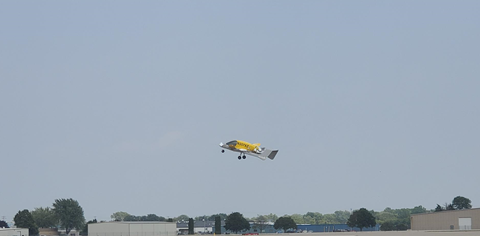 "Only so much of this problem is technology-based, which we feel we have pinned down," he adds. "But another piece of it is operational, and operational learnings are not so obvious until you go and you actually do it out there."
In Paris in June, Yutko said the company was targeting the 2028 Summer Olympics in Los Angeles as a potential showcase for the USA's emerging eVTOL industry.
Those games are increasingly viewed among US eVTOL companies as a potential opportunity to display their designs as leaders in the emerging advanced air mobility (AAM) sector, with former acting FAA administrator Billy Nolen – now chief safety officer for air taxi start-up Archer Aviation – pushing the idea of "innovate 2028 as a forcing function" for AAM.