Boeing-backed air taxi developer Wisk Aero has revealed an updated prototype that it calls a candidate for type certification by the US Federal Aviation Administration (FAA).
California-based Wisk said on 3 October that its "Generation 6" vehicle is a "self-flying, all-electric, four-passenger vertical take-off and landing (eVTOL) air taxi".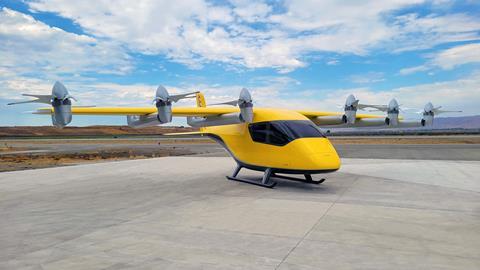 "Our sixth generation aircraft is the culmination of years of hard work from our industry-leading team, learnings from our previous generations of aircraft, commitment from our investors, and the evolution and advancement of technology," says chief executive Gary Gysin.
The new design is similar to its predecessor – a small aircraft with 12 wing-mounted propellers, six forward of the wing that tilt and and six fixed rotors aft. Wisk optimised the design "for range, improved aircraft control and performance, and efficient energy management", it says.
The vehicle's cruise speed is 120kt (222km/h), with range of 78nm (144km). Wisk says the prototype's wingspan is less than 15.2m (50ft) and that it will fly autonomously, "with human oversight", at altitudes ranging from 2,500-4,000ft.
With the Generation 6, Wisk has moved to a high-wing aircraft that has larger, four-blade propellers, whereas the previous iteration had lower wings and smaller propellers each with two blades. The changes improve safety and stability and reduce cabin noise, making it a more comfortable, the company says.
The cabin is also larger than the previous test aircraft, and it has storage for luggage and carry-on items.
"As Wisk's go-to-market aircraft, Generation 6 represents the first-ever candidate for type certification by the FAA of an autonomous eVTOL," Wisk says. The company has not disclosed a certification timeline, however.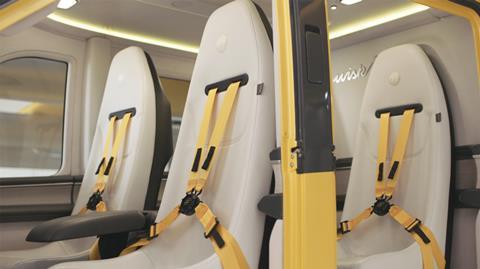 Earlier this month, Boeing and Wisk released a 64-page report predicting how a future air taxi system – also known as urban air mobility – would actually work.
Called "Concept of Operation for Uncrewed Urban Air Mobility", the report makes technical recommendations about how air taxis can be safely integrated into airspace.
It outlines required systems and infrastructure, including landing zones – dubbed vertiports – ground management providers and fleet operations centres, which will monitor flights, ensure aircraft separation and issue air traffic control (ATC) instructions. ATC functions will need to be automated, necessitating significant upgrades to existing systems, the report says.
Additionally, air taxis will require advanced satellite navigation and communication systems, and sense-and-avoid technology to prevent midair collisions, it adds.