A US start-up headed by former Tesla and SpaceX software engineers has completed more than 50 flights of remotely-piloted Cessna aircraft and aims to offer a certified pilotless Caravan 208 within as little as two years.
Silicon Valley-based Reliable Robotics has been in business since 2017 but is just now making public details about its pilotless technology.
It first flew the Cessna Caravan with the remote-pilot system on 12 June.
"We would like to see commercial operations inside of two years," chief executive Robert Rose tells FlightGlobal. "This is a real product."
The company joins a host of players seeking to bring pilotless or autonomous aircraft to market. Those include major airframers and other new entrants, among then Xwing, which is also developing autonomous Caravans for the air cargo market.
Rose says what differentiates his firm is certification expertise.
Reliable Robotics began flight tests in 2018 using a manned Cessna 172 and completed its first unmanned flight of the type in September last year.
It has since moved to the Caravan, which it has flown a "handful" of times with the remote system and completed an automated landing.
Though Rose declines to say whether Reliable Robotics is working with airlines, the flight-test 208B (registration N927FE) is owned by FedEx and is operated for the express package delivery company by Mountain Air Cargo, according to Cirium fleets data.
The company has already completed more than 50 flight tests of the system, flying primarily from a California airport.
Reliable Robotics' system consists of avionics, software, mechanisms, communications technology and remote-control interfaces. A human controller on the ground oversees flights.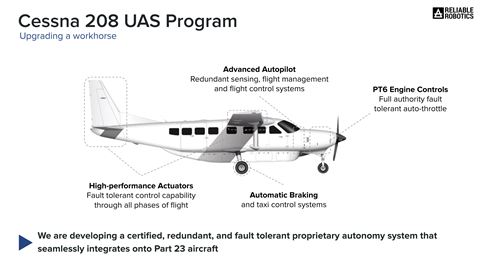 TESLA, SPACEX EXPERIENCE
Rose, who is also a pilot, co-founded Mountain View, California-based Reliable Robotics with vice-president of engineering Juerg Frefel.
Rose previously helped develop self-driving technology as senior director of autopilot and user interface at Tesla. Before that, he headed the software team at SpaceX, working on the Falcon 9 rocket and on Dragon, the first commercial spacecraft to dock with the International Space Station.
During that time, Rose says he worked extensively with NASA and on certification with the Federal Aviation Administration (FAA).
Frefel also previously worked at SpaceX, leading teams that developed technology for Falcon 9 and Dragon.
The founders launched Reliable Robotics with $8.5 million in funding from Silicon Valley venture capital firm Lightspeed Venture Partners. In March 2019, the company secured another $25 million from Palo Alto investment company Eclipse. One Eclipse partner, Greg Reichow, was previously Tesla vice-president of manufacturing.
Other financial partners include Pathbreaker Ventures and Teamworthy Ventures. Reliable Robotics has about 35 full-time staff and works with roughly 15 contractors.
The team decided against the perhaps easier path of achieving certification in another country, a route other developers have taken.
"Other companies were sidestepping or ignoring the issue," Rose says. "That strategy – of doing it in another country and bringing it to the US – is not going to work. You have to do it in the US and under FAA regulation."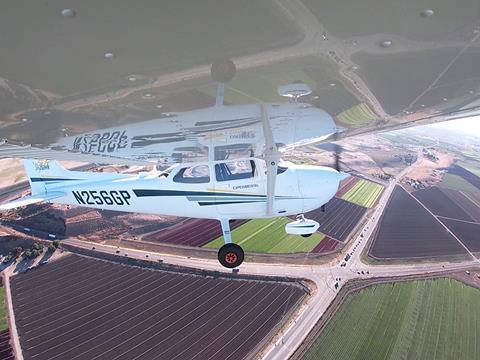 Initially, Reliable Robotics aims for certification of a pilotless cargo-carrying Caravan under FAA Part 23 airworthiness standards, which apply to aircraft with maximum take-off weights not exceeding 8,620kg (19,000lb). It would be flown by airlines certificated under Part 135 rules.
Eventually, the company may seek to certify such a system for large transport aircraft certificated under more-stringent Part 25 airworthiness standards. But those regulations and associated Part 121 rules, which apply to major airlines flying big jets, will be more challenging because they do not currently allow for unmanned flights, Rose notes.
He declines to say which other aircraft types the company might be targeting.
"The goal here is to build a core kernel of a system that can be adapted for use on other aircraft," Rose says.
JOINING THE AUTONOMY RACE
Reliable Robotics is one of many companies developing pilotless and autonomous aircraft.
Airbus this year said it had completed a two-year autonomous project that included more than 500 flights. Boeing had been working on autonomous cargo and passenger aircraft. Embraer and major helicopter manufacturers have also been in the race.
But some industry experts believe needed technological innovation will come from nimbler start-ups.
"The disruption in design concepts is not going to come from Airbus or Boeing. I think it is going to come from smaller, innovative players," Air Lease executive chair Steven Udvar-Hazy said in July during a FlightGlobal-moderated webcast.
He cites Tesla as an example, saying that company's electric-automobile technology led an electric revolution and forced major automakers to respond.
"We need disruptors, that may not necessarily be financially successful, but [that] could actually instigate innovation that otherwise would not come from the large, established OEMs."
Just last week, San Francisco-based start-up Xwing, also backed be venture capital, said it had conducted numerous autonomous flights using a Caravan. Xwing sees its aircraft as ideal for carrying "cargo over unpopulated areas", chief executive and founder Marc Piette says.
In its quest for certification, the Reliable Robotics team has been poring over complex regulations and "mapping" those regulations to in-house developed software.
"Our job is to make the FAA's job as easy as possible," Rose says.
Reliable Robotics intends to bring advanced flight simulation technology to bear on the certification process, with Rose noting his company can run many hours of simulations in just seconds.
"We need to show equivalency between our simulation ability and the actual environment," he says. "We have put a tremendous amount of focus on simulation capability."
'UPGRADE KIT'
The company aims to offer the pilotless system on Caravans as a "upgrade kit that is capable of total automation of the entire aircraft".
"We are developing a certified, redundant autonomy system that seamlessly integrates onto the Caravan," Rose says. "This includes modifications necessary to make the Caravan work very much like a fly-by-wire aircraft."
The technology is not "autonomous in the pure" sense and does not heavily employ use of artificial intelligence.
Rather, the software is more traditional, being designed around aircraft "procedural rules" such as those found in pilot operating handbooks, according to Rose.
The software automates all aspects of aircraft operation – taxi, take-off, cruise and landing. It can execute rejected take-offs and aborted landings.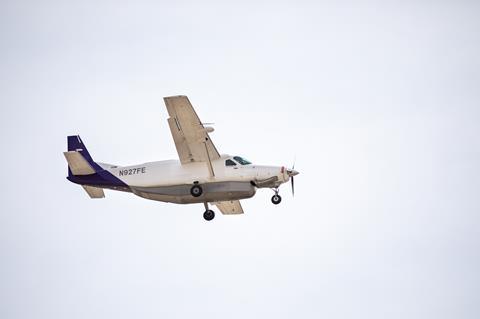 Rose describes the system as "supervised autonomy". That is because controllers on the ground will monitor and assist with the operation. They will hear everything in the cockpit and handle air traffic control communications just as if they were in the aircraft, he says.
In the case of a lost communications link, the system would land the aircraft autonomously.
That arrangement leaves humans to handle "high-level decision making", such as deciding how to avoid potential in-flight collisions, he says.
"When they speak, then can speak really through the aircraft," Rose says of ground controllers. "Everything is just going to integrate in the airspace the way it is today."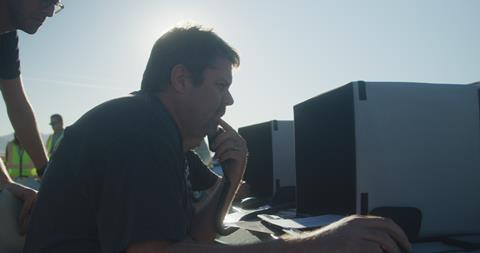 Rose sees remotely-piloted Caravans as ideal for carry cargo and express mail shipments on air cargo routes between small western US cities and larger hub airports.
A host of regional US airlines already serve such routes using small aircraft for shipping companies like FedEx and UPS.
Five regional airlines currently operate a combined 68 Caravans for FedEx, Cirium fleets data shows.
"Our position is that these aircraft can be flown without an onboard pilot… There is a very clear path… without changing any laws," he says.