US aerospace company Wright Electric has launched development of a "zero-emission" electric-powered passenger airliner based on British Aerospace's 146 regional jet.
Called Wright Spirit, the aircraft will "incorporate Wright's megawatt-class electric propulsion system and serve the 100-passenger market for 1h flights", the company says on 4 November.
Wright targets service entry in 2026. The electric systems will replace the BAe 146's four Lycoming ALF502 turbofans.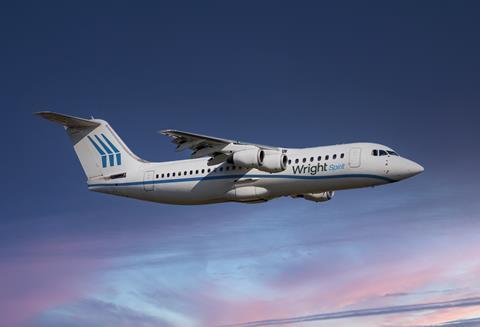 Wright, which has for several years been working on electric propulsion systems for future airliners, timed its unveiling of Spirit to align with the COP26 UN Climate Change Conference, now happening in Glasgow.
Wright intends in 2023 to flight test a BAe 146 modified to have just one of its turbofans replaced by an electric system. "The development programme will then accelerate towards flight testing with two all-electric propulsors by 2024, leading to the full-electric aircraft by 2026," says Wright.
During the last two years, the company has progressed with development of its megawatt propulsion system, advancing components including a "high-efficiency, high-power-density inverter and a 2MW motor", Wright says.
Spirit's 1h-flight duration will make it suited to serve busy air routes, such as from Seoul to Jeju, London to Paris, Rio de Janeiro to Sao Paulo and San Francisco to Los Angeles.
"We can make a significant impact on global emissions by targeting this high-demand segment of the market," says Wright chief executive Jeff Engler.
Wright has been working with EasyJet on development of a different electric-powered single-aisle aircraft called Wright 1. In September, Wright said it had started testing its 2MW electric powertrain. It said the system could be scaled to 4MW.