US air taxi developer XTI Aircraft and publicly traded US holding company Xeriant are forming a joint company for the purpose of advancing development of XTI's TriFan 600.
The firms will each own half of a new corporation called Eco-Aero, which will work toward "completing the preliminary design" of the five-passenger hybrid-electric vertical take-off and landing (VTOL) aircraft.
Xeriant and XTI intend to disclose more details about the joint venture on 14 June.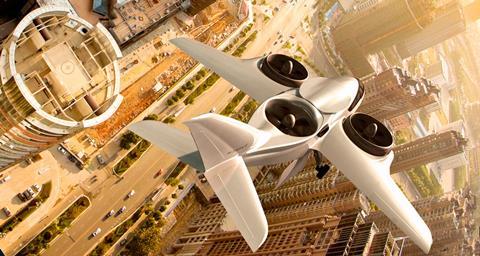 Based out of Englewood, Colorado, XTI has for several years been developing its TriFan 600, an aircraft that will have two pivoting ducted fans mounted on its wings and an additional downward-pointing fan near its tail.
The aircraft will have a carbonfibre structure, fly-by-wire flight controls and a "hybrid-electric drive" system, which will consist of GE Aviation's Catalyst engine and an energy storage unit with three battery packs.
The TriFan 600 will have range of 650nm (1,200km) when taking off and landing vertically – but range will nearly double to 1,200nm when the aircraft takes off and lands conventionally, the company says.
XTI advertises the TriFan 600 has having speed of 300kt (556km/h) and a 29,000ft maximum cruise altitude.
Led by Robert LaBelle, former chief executive of AgustaWestland's North America business, XTI has secured "pre-sales" worth up to $1.3 billion, it says.
Xeriant, based in Boca Raton, Florida, describes itself as "a holding and operating company focused on acquiring, developing and commercialising technologies with applications in aerospace, including innovative aircraft concepts", according to financial documents.
Xeriant has been in business for more than a decade under several corporate names. It previously focused on investments in the clothing and LED lighting sectors.
"The company plans to take an active and disruptive role in the 'third wave of aeronautics,' which includes the electrification of aerial transport and the development and integration of specialised aircraft with greatly reduced logistical footprints," Xeriant says.
In 2019, Xeriant acquired aircraft design and development company American Aviation Technologies and a VTOL called Halo.
Xeriant lost $700,000 in 2020 and had $1.5 million in cash at the end of March, securities filings show.