De Havilland Canada has identified Zimex Aviation as the third customer for its recently rebooted DHC-6 Twin Otter Classic 300-G.
Zimex – a Switzerland-based airline group that was the first to fly the Twin Otter 400 – signed a purchased agreement in Le Bourget on 21 June for two of the lighter 300G variants, "which will deliver increased payload range and decreased operating costs for our customers", says Daniele Cereghetti, chief executive of Zimex, who describes the aircraft as "the backbone of our business".
"We [added] our first Twin Otter 300 54 years ago and have basically flown the Twin Otter on every single continent," he adds.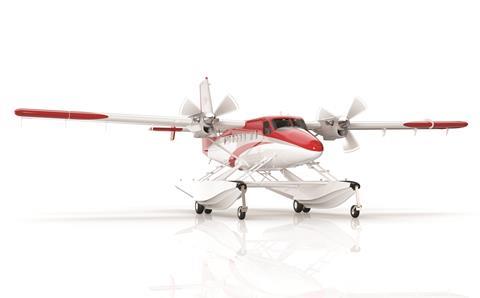 Cereghetti says Vimex is "very happy about the extra payload, extra range of the aircraft and the efficiency… that the Twin Otter can bring".
The aircraft will be equipped with Garmin G1000 NXi avionics and either Pratt & Whitney Canada PT6A-27 or -34 turboprops.
Earlier during the Paris air show, De Havilland Canada disclosed that launch customers for the lighter 300-G variant – returning after a 35-year production hiatus – would include Jetcraft Commercial, which ordered 10 of the aircraft. Indian regional airline Flybig also said it intends to purchase six 300-Gs, along with two Twin Otter Series 400s.
The Canadian aircraft manufacturer expects to deliver the first 300-G in 2024.