Of the myriad challenges facing airline chief executives this year, securing government clearance to operate international services will be among the more pressing concerns.
Australia and its flag carrier Qantas are an early example of the potential differences of opinion ahead.
In January, Qantas began selling seats on international services to Hong Kong, Japan, Singapore and the UK from July 2021, "subject to vaccine roll-outs and borders reopening". The carrier's chief executive, Alan Joyce, had said in December that July 2021 was likely the earliest opportunity for Australia to lift international travel restrictions.
But Australian authorities – which have imposed an international travel ban in a bid to curb the spread of the coronavirus into the country – were less than impressed by the carrier's scheduling.
Indeed, Australian deputy prime minister Michael McCormack said in response to questioning that international borders will be opened "when international arrivals do not pose a risk to Australians".
"Decisions about when international travel resumes will be made by the Australian government," he added.
For Joyce, a delicate balancing act is ahead, as he seeks to encourage the opening of markets while avoiding accusations of not taking the virus threat seriously enough in a country that had been lauded for its efforts in keeping the Covid-19 at bay.
"The fact is that the [coronavirus] risk is clearly international travellers coming into the country," he said during a Reuters conference in mid-January, demonstrating a strong understanding of that delicate position when it comes to the reintroduction of international travel. "Outside of that there wouldn't be any community transmission."
Helpfully for his cause, Joyce is also becoming a high-profile advocate of a policy whereby international travel will only be open to people who have been vaccinated.
He believes that requiring passengers to be vaccinated will help to protect Qantas crew and other passengers, and thus restore the sense of confidence that is necessary for international travel.
"Our legal advice is that we can do it, and we will put it in at the appropriate time," he says, while adding that the carrier would allow medical exceptions to the requirement.
It remains to be seen whether such a policy will be a help or hindrance to Qantas' recovery, and whether more of the industry will follow suit. The latter is far from guaranteed, with IATA recently expressing concerns about the airline industry slashing its pool of potential customers by excluding from flying those who choose not to be vaccinated.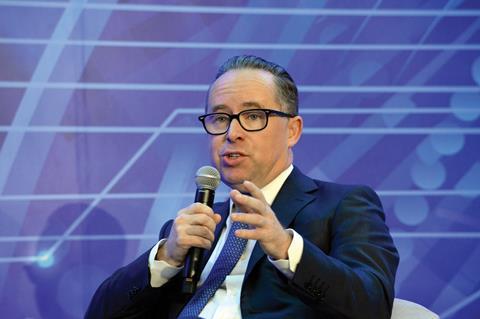 At the same time as grappling with an uncertain outlook for long-haul flights, Joyce faces new challenges – fronted by a familiar face – in shorter-haul markets.
Jayne Hrdlicka – former chief of Qantas Group low-cost carrier Jetstar – took the helm at Virgin Australia towards the end of 2020.
She is setting the carrier's sights on the mid-market segment, the business having completed a sale and transfer to Bain Capital on 17 November following its collapse into administration in April.
"Australia already has a low-cost-carrier and a traditional full-service airline, and we won't be either," Hrdlicka said.
"Virgin Australia will be a mid-market carrier appealing to customers who are after a great value airfare and better service."
A more disciplined Virgin Australia will be hoping to give Qantas chief Joyce a few more headaches as the recovery kicks in.