Budget carrier Wizz Air has overhauled its commitments and processes for paying passengers when flights are cancelled or delayed after the UK aviation regulator took enforcement action over a high volume of passenger complaints regarding money still owed.
The Civil Aviation Authority had last December flagged concerns over the backlog of outstanding passenger claims and payments at Wizz after criticising the high volume of alternative dispute resolution (ADR) complaints it incurred from delays last summer.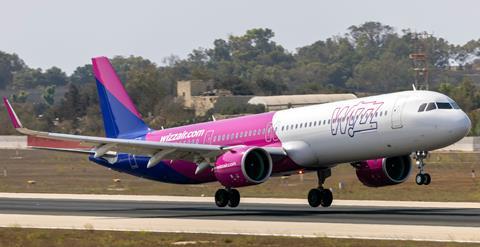 It has now instructed Wizz to make changes to its policies and procedures to "ensure consistent compliance with its re-routing and care obligations".
The carrier has also committed to look again at previously rejected claims – from after March 2022 – it received for replacement flight costs, transfers when replacement flights were via different airports, and care and assistance following flight disruptions.
Joint-interim CAA chief executive Paul Smith says: "Passengers have every right to expect their complaints and claims to be resolved quickly and efficiently and to be treated fairly by airlines, in line with regulations. We made it clear to Wizz Air last year that the way it was treating passengers was unacceptable.
"We will continue to watch the situation closely to check that passengers receive what they are owed and that Wizz Air's policies have improved, so that consumers have a better experience if things go wrong."
Wizz has now signed a deed of undertaking with the CAA, under which it has made several commitments regarding its handling of claims for costs incurred following a flight disruption.
Wizz Air UK managing director Marion Geoffroy says: "Last summer, like all airlines in Europe, Wizz Air faced unprecedented operating challenges, driven mostly by the external environment, including ATC disruptions, airport constraints and staff shortages across the whole supply chain.
"As a result, we were unable to meet our own high standards of service. Flights were too often late or cancelled, disruption management overwhelmed our internal and external resources, and claims took too long to process and pay. We have learned from this experience and have taken significant steps to make our operation more robust and customer-centric."
The airline points to action it has already taken to add greater resilience to its operations through spare aircraft capacity, increased staffing, and revised flight and crew rostering times. It has also this year launched an automated refund process and added a chatbot option and social media customer service channel to more quickly handle issues, as well as increasing customer service handling capacity.
Wizz points to these efforts being reflected in it completing 99.57% of its flights in the first half of 2023, and having paid more than 70% of County Court Judgements (CCJs) present in online records.
"We know that we need to rebuild trust, and we want to show our customers how serious we are about making improvements for the future," say Geoffroy.