Emirates president Tim Clark has again urged Indian authorities to lift a cap on seat numbers for flights to and from Dubai, amid growing travel demand and increasing competition from Indian operators.
Speaking at the CAPA India Aviation Summit 2023 in Delhi, Clark says that while Emirates "will continue to be a player" in the Indian market, "there is a need to increase air access" through the liberalising of international access. Emirates, he adds, has been unable to ramp up given the "vexing" seat caps.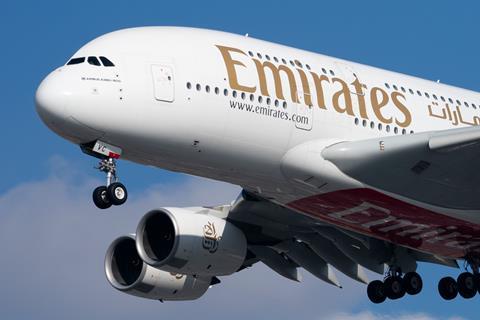 "It's a real pity we can't do more," Clark tells the packed conference hall.
Current bilateral air travel arrangements allow Dubai-based carriers to operate up to 66,000 seats per week on flights to India. Emirates and its low-cost unit flyDubai are already close to hitting the upper limit, which was last amended nearly 10 years ago.
Emirates has on several occasions called for more seats allocated to India, a market Clark says is "important to what we do". As recently as February, the airline called for 50,000 more seats to India.
Clark, speaking on 21 March, says that "it is in the best interest" for all parties to liberalise air travel, especially with recent changes in the India airline market, including the privatisation and expansion of Air India.
Indian carriers, he believes, stand to earn as much as $1 billion in revenue if air travel is liberalised between the two countries.
"If we are going to be capped at levels [about 10 years ago], then there are harsh realities: how do we [at Emirates] deal with inventory allocation? All I know is that the Indian market is set to grow, and so there will be pressure on the city pairs we serve here," says Clark.
For Emirates, a liberalisation of air travel will allow it to solidify its presence in the fast-growing market, especially in second- and third-tier cities.
Clark also reiterates his pitch for Airbus to develop an updated A380, stating that carriers would be left with fewer seats in the longer-term, as the industry shifts away from larger aircraft types.
While he says that Emirates will fly the A380 "for as long as we physically can", an updated superjumbo will be able to bring back seat capacity in the longer term.
Emirates is the world's largest A380 operator, with 121 examples in its fleet.