Subhas Menon, director general of the Association of Asia Pacific Airlines (AAPA), believes there is a "disconnect" between the Asia-Pacific's upbeat air travel recovery and the prevailing economic gloom facing the world.
"As much as the outlook for air travel looks bright, at least for now, there are signs that the global economic outlook may get bleaker," he says.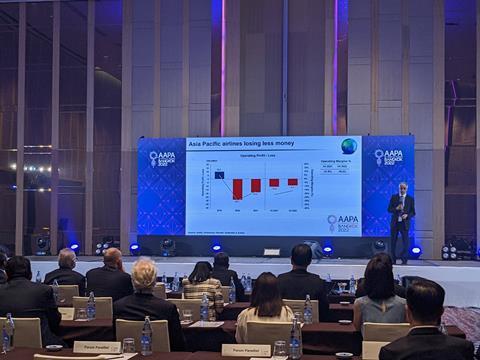 "That the industry's recovery coincides with a looming recession is a cause for concern. How much will this affect the recovery of international air travel?"
Menon made the remarks in Bangkok during the AAPA's 66th Assembly of Presidents, which runs from 10-11 November.
Subhas observes that the softening of the world's economy coincides with a tight job market, and that vacancies in the aviation industry are high. Moreover, costs are going up, especially for fuel.
"There is a disconnect between the global and Asia-Pacific economic outlook, and the global air travel recovery," he says.
Still, there is room for optimism given 2022's easing of travel restrictions, which has unleashed pent-up demand for air travel. He observes that the elimination of travel restrictions in several key markets has helped airlines sharply improve operating results.
Nonetheless, the recovery is not complete owing to China's continued absence from the air travel recovery because of its stringent 'zero-Covid' policy.
Referring to China as the Asia-Pacific's "elephant not in the room," he cites IATA statistics that show the region's RPKs to September are just 42% of those in 2019, before the coronavirus pandemic.
This means the Asia-Pacific's recovery lags that in other regions, such as North America, where RPKs to September are at 87% of 2019 levels, Latina America at 83%, and Europe at 75%.
Menon also reiterates that airlines continue to face a challenging regulatory environment in areas such as taxes, slot access, infrastructure, and security.
"Most regulators in the world can be trigger happy, but we're particularly concerned with the regulations emanating from the USA and European Union," he says. "Even during the pandemic, they were busy churning out regulations."
He calls on governments to better harmonise regulations. "We don't mean that regulations should be identical…but regulations should work in tandem with the rules and regulations in other countries."
On the topic of the environment and the industry's pledge to achieve 'net zero' carbon emissions by the 2020, he called on fuel companies, governments, and other players to help create the infrastructure for sustainable aviation fuel.