The Association of Asia Pacific Airlines (AAPA) has warned of challenges posed by ongoing supply chain issues and rising costs, amid "resilient" travel demand boosted by tourism growth.
AAPA director general Subhas Menon says airlines face higher costs from inflation and a rise in jet price prices, both of which "threaten to squeeze margins".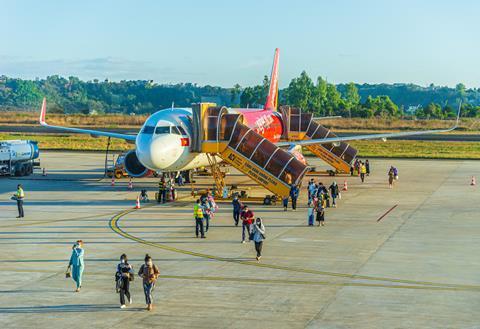 "Delays in aircraft deliveries and parts shortages may affect airline fleet deployment plans," he adds. "Competition is also intensifying, in tandem with the increase in capacity globally."
His comments come as the AAPA releases its traffic results for August, which shows continued growth in international passenger travel.
During the month, Asia-Pacific airlines carried 25.7 million international passengers, more than twice the passenger numbers recorded in the year-ago period, or around 76.5% of pre-pandemic levels.
Traffic for the month doubled year on year, outpacing a 89% growth in international capacity. The association notes that the recovery is "underpinned by robust travel demand and expansion in city-pair connections from both outside and within the region".
Adds Menon: "Despite the moderation in global economic activity, demand has continued to grow in the services sectors, including travel and tourism."
AAPA data also shows continued weakness in the region's cargo market, with demand shrinking 1.8% from the already subdued volumes in the year-ago period. Freight load factors, meanwhile, shrank by 6.6 percentage points to just 58.8% in August.