It will be difficult to reopen borders for tourism until most of the world's population has been vaccinated, and the disparity between developed and emerging economies could potentially hamper progress, the Association of Asia Pacific Airlines (AAPA) has warned.
"No one is safe until everyone is safe," says the association's director general Subhas Menon. He highlights that while developed countries are on track to complete the vaccination of their populations by end-2021, or in the first half of 2022, developing and emerging countries are on a "long path to achieve the same results".
"Unfortunately, economic recovery cannot hinge on the recovery of the developed world, nor can air travel recovery just proceed among the developed world," Menon stressed during a 9 February media event.
Large economies like India, China and Russia, even with in-country vaccine production, face struggles in vaccinating their populations quickly. Menon identifies India, Malaysia, Indonesia, Philippines, Sri Lanka and Nepal – countries largely dependent on tourism – as being "far… from mass immunisation".
He calls for greater collaboration and consistency throughout the aviation ecosystem, including governments, and for a return to the basic principles of globalisation and interconnectivity which have long boosted air travel and propelled the industry to the highs of 2019.
Conducting vaccinations in a speedy and egalitarian way across the world could help put travel bubbles back on government agendas, he adds.
Travel bubbles have been put on hold mainly due to the resurgence and mutation of the virus, and deprioritised as governments focus their attention on containing the spread.
"Until governments achieve a level of comfort that the resurgence and mutation of the virus has been contained, we will not see travel bubbles appearing again," says Menon.
However, he says he does expect the Singapore-Hong Kong travel bubble to "come back on the horizon", citing both city states' ability to contain the virus and their dependence on tourism.
"Pent-up demand is evident from the surge in bookings whenever the easing of travel restrictions is initiated, even fleetingly, as in the case of the aborted Singapore-Hong Kong travel bubble.
"But the inconsistent and oftentimes complicated nature of border restrictions will be a serious impediment to recovery unless we can offer a solution for travellers to navigate and fulfil these requirements conveniently."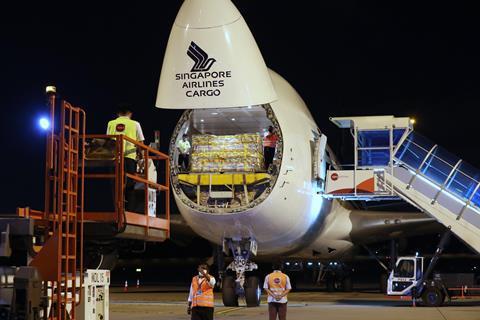 AAPA is maintaining its projection that air travel will rebound to 2019 levels in 2024.
Menon believes that it will take "a bit longer than six months before we see a recovery on the horizon", to allow for the virus and its various forms to play out. "We are moving in the right direction by focusing our attention on vaccine production and distribution worldwide," he says.
He expects that key health measures such as testing, vaccinations and quarantines will continue, "in the background", but that there will be more "mature application" based on risk assessments.
"Testing bolsters international travel, as long as the virus is still around and becomes endemic," he says, stressing the importance of a "streamlined and standardised testing protocol".
He adds: "It is still early days yet. We have an evolution on the learning side, where we are getting up to speed on how the virus and vaccines behave…
"A jab is better than no jab, even if it is only 60-70% efficient. That way, we will be able to stem the death rate and number of cases."
As the industry looks ahead to recovery, a rationalisation of capacity and operations is likely.
"Covid-19 is not a competitive differentiator. It is not partial to any business model or airline. There will be a lot of capacity and fleets still grounded, it will take time until we achieve a level of operations that we have been used to in the industry all these years," says Menon.
Aviation hubs, as a model, will still have a place in air transport, given the limitations of point-to-point connections, he predicts.
"Health and operational safety will be the more determinant factors rather than a particular business model or way of flying. Airports that become Covid-safe who communicate their level of safety will do very well."