Central Asian nations have several options available for boosting air traffic, particularly if they focus on creating a more attractive environment for low-cost carriers.
A recent Asian Development Bank report into the nine Central Asian Regional Economic Cooperation (CAREC) countries highlighted that air traffic has largely recovered from the coronavirus pandemic, driven by LCCs.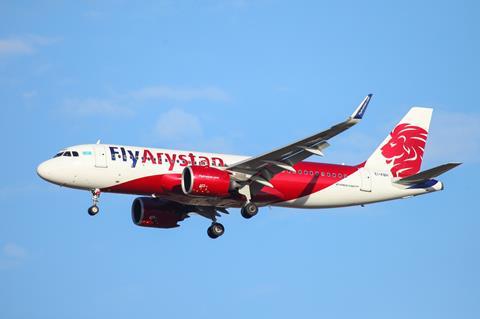 The CAREC region comprises Azerbaijan, Georgia, Kazakhstan, the Kyrgz Republic, Mongolia, Pakistan, Tajikistan, Turkmenistan, Uzbekistan. It also includes China's Inner Mongolia and Xinjiang regions, although these were not part of the ADB's study.
The ADB observes that in 2022 the overall CAREC region's seat capacity hit 98% of pre-pandemic levels, while the Central Asian countries surpassed 2019 levels – the only region in the world to do so.
A significant contributor to this strength was the rapid growth of FlyArystan, the low-cost unit of Kazakhstan carrier Air Astana. FlyArystan flew 3.3 million passengers in 2022, compared with 700,000 in 2019. It has also become the region's fourth largest airline.
The LCC unit of Uzbekistan Airways, Uzbekistan Express, and foreign LCCs also contributed to the region's traffic growth.
Despite the positive traffic trend, the ADB believes much more needs to be done.
"Rapid LCC growth over the remainder of this decade is critical for CAREC to achieve aspirations to improve connectivity—within and outside the region—and further grow tourism in the region," says the ADB.
"LCCs generate massive economic benefits as lower fares make air travel more affordable, stimulating demand in both the domestic and international markets. With higher volumes of traffic, there are more tourists staying in hotels, eating out, and visiting local attractions. More passenger traffic also supports expansion of airports and the overall aviation ecosystem, creating jobs."
While the ADB finds that CAREC countries have liberalised aviation in recent years, more liberal open skies policies are required, which will offer new route opportunities for airlines.
ADB also contends that visa requirements need to be brought down to encourage travel, and that airport costs are very high.
"Most CAREC airports have charges, fees, and taxes for international flights that are well above global averages," says ADB. "There is a lack of sufficient regulation, resulting in exorbitant charges from monopoly service providers."
Such high charges limit LCCs' ability to stimulate demand because they are forced to pass high airport costs onto passengers.