Greek carrier Aegean Airlines cut its losses to below pre-pandemic levels for the first three months of 2023, with revenue nearly double last year's figure.
Aegean narrowed its pre-tax loss to €18.6 million ($20.2 million) in the traditionally seasonally weak first quarter, an improvement on the roughly €48 million it lost in the same quarters of both 2022 and 2019. The airline did, however, report positive first-quarter EBITDA of €19.3 million.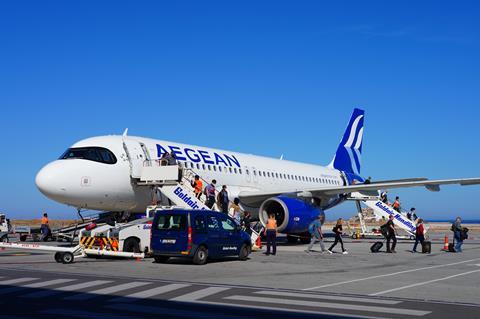 Aegean chief executive Dimitris Gerogiannis says: "We are very pleased with Q1 performance, in the seasonally weakest period of the year, as a result of robust demand but also improved Aegean's competitiveness in the post-pandemic market."
Notably, Aegean's revenue of €229 million was 90% greater than in the first quarter of 2022, and around a third higher than in the same period of 2019.
Aegean flew 2.58 million passenger in the first quarter, broadly on a par with 2019 but 72% more than in the first quarter of last year. It saw particularly strong growth on international routes, as markets were impacted by the Omicron variant of Covid-19 during the first quarter of 2022. Aegean doubled its number of international passengers carried year-on-year, to just over 1.5 million in the first quarter.
"Once again, we supported the extension of the tourism season in our country with our investment in the capacity offered in Athens and Thessaloniki in the first quarter of the 2023, an investment which resulted [in] significant traffic growth," he says. "We continue to see strong demand and positive indications for the summer period, which, as always, shapes full-year's results."
Aegean expects to close 2023 with full-year capacity of 18 million available seats, an increase of 2 million seats from 2022 and more than in 2019, before the pandemic.