Aeroflot Group has signed an agreement for the purchase of 339 aircraft, including 210 of the Irkut MC-21 twinjet, during an economic conference in Vladivostok.
The agreement also covers 89 of the Irkut SSJ-New – a revised version of the Superjet 100 – plus 40 Tupolev Tu-214s.
Deliveries of the aircraft, under lease, will run from 2023 to 2030.
Two SSJ-New airframes will be delivered next year, and the fleet renewal will ramp up from 2024, when the first six MC-21s and seven Tu-214s will be handed over.
Aeroflot chief Sergei Aleksandrovsky says the agreement is the largest purchase order in the company's history.
"Signing of this agreement clearly demonstrates to the whole world that Russia is a great aviation power with great potential and rich experience in the field of aircraft construction, capable of producing reliable and modern aircraft," he adds.
The intended distribution among Aeroflot Group carriers, which include Aeroflot itself as well as Rossiya and budget airline Pobeda, has not been disclosed.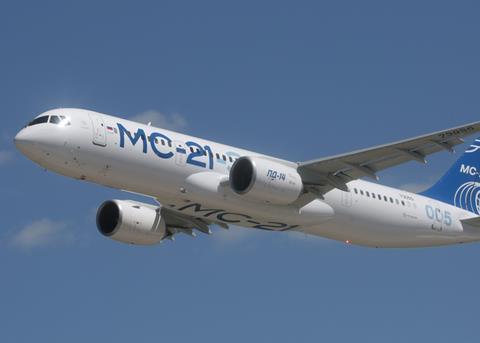 Russian trade and industry minister Denis Manturov says the government will subsidise the purchase to ensure operators do not carry "additional financial burden".
Initial serial-production aircraft are "more expensive", he says, and the cost will be compensated.
"With the increase in serial production, we will move away from this additional measure," says Manturov.
The agreement was signed at the Eastern Economic Forum which opened on 5 September.
State technology firm Rostec's general director, Sergei Chemezov, claims Boeing and Airbus jets are "unlikely ever to be delivered to Russia again".
He says such aircraft in the Aeroflot Group fleet will be replaced by domestically-built airliners. The MC-21 will become the "flagship", he insists, while the Tu-214 – despite its age – has "proven itself well".
"All the aircraft will be delivered in import-substituted form, with Russian-made systems and components," Chemezov adds.
United Aircraft chief Yuri Slyusar says Aeroflot Group is a "reliable partner" and the scale of the order means its fulfilment will be one of the manufacturer's priorities over the next few years.
"Transport accessibility for Russian regions largely depends on the implementation of this agreement," he says, adding that the first "firm contracts" covering initial supply of aircraft over 2023-25 are planned to be signed by the end of this year.