Russian flag carrier Aeroflot incurred a net loss in 2020 amid slumping revenue as passenger numbers were hammered by the Covid-19 crisis.
"On the back of the deepest crisis in the history of aviation with [an] almost complete halt of international traffic in the second and third quarters and anti-epidemic measures in the Russian regions, which led to significant pressure on demand, the company's net loss for the year amounted to Rb96.5 billion [$1.3 billion]," states the SkyTeam member, which had made a profit of Rb5.3 billion in 2019.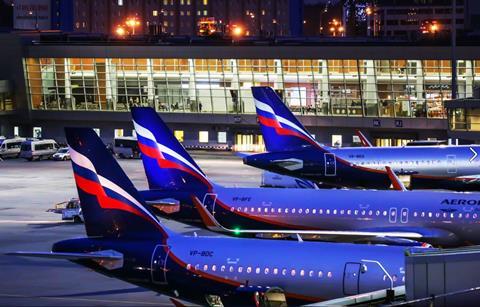 Revenue almost halved, falling from from Rb552 billion to Rb228 billion.
Aeroflot notes that its dramatic cuts to capacity, plus cost reductions and additional revenues from air cargo transport, helped to "partially minimise" the negative impact of the crisis on its results.
Amid a near-total collapse in traffic during the initial weeks of the crisis, passenger numbers fell 85% year on year in the second quarter. This moderated to 67% in the following three months, and 59% in the fourth quarter as Aeroflot made efforts to restore capacity.
Earnings were supported by "the continued restoration of international flights through frequency increases and resumption of flights to a number of destinations" as the year progressed, notes the airline. It operated 94% more international flights in the fourth quarter than in the third, though passenger growth lagging behind, increasing 56%.
Cargo revenue increased 78% year on year in the fourth quarter. "The volume of cargo and mail transported increased by 55.6% in Q4 2020, quarter on quarter, mainly due to an increase in freight traffic in the international segment by 130.7%," says Aeroflot.
Although it managed to cut costs 39% over the year, progress was hindered by the Russian rouble's 11% decline against the dollar and 14% fall against the euro, which added Rb14.9 billion to the airline's spending.
"Large-scale cost optimisation measures taken by the company's management, restructuring of lease payment schedules, and approval of optimised payment terms with counterparties, coupled with a reduction in the volume of operations, helped to reduce both fixed and variable costs," says Aeroflot.