Air Baltic saw its highest-ever first-half revenue this year, according to guidance released on 13 July.
The Latvia-based carrier said preliminary revenue was €285 million ($318 million) for the January-June period, marking a 49% rise from the same period in 2022 and a 30% increase from its 2019 result.
It did not provide any guidance on profitability.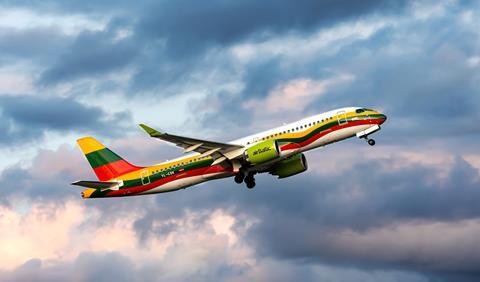 The revenue increase comes despite passengers numbers of 2 million being down on the 2.2 million carried in the same period of 2019, reflecting the industry-wide trend of strong yields. Versus 2022, passenger numbers were up 52% from 1.3 million.
"The first half of 2023 has surpassed our expectations, driving Air Baltic towards strong commercial performance," says chief executive Martin Gauss. "We have been recording a strong summer season so far, with each passing month showcasing improvements with an upward trend."
Air Baltic retains its target to achieve €700 million in full-year revenue, Gauss says, by carrying 4.4 million passengers.
Alongside its operations from the Baltic states and a one-aircraft base in the Finnish city of Tampere, the state-owned carrier is wet-leasing out at least 14 of its 40 or so Airbus A220-300s for the current summer season, including to Lufthansa Group.
Gauss told FlightGlobal in April that the Baltic countries would accommodate around 40 A220-sized jets by end-2025 – some 10 fewer than it identified before the pandemic and Russia's invasion of Ukraine. Non-Baltic bases and the wet-leasing out of capacity have therefore become integral to Air Baltic's strategy.
Air Baltic is due to release its full first-half financial earnings on 9 August.