Air Baltic will open a seasonal base at Las Palmas in Gran Canaria for the upcoming winter season, as it looks to expand its footprint beyond its traditional markets.
It will base two Airbus A220-300s at the Canary Islands airport this winter, serving 10 direct routes covering Scandinavia and the Baltic states. Nine of those routes will be new to Air Baltic's network, the carrier notes, including services to Bergen, Billund, Copenhagen and Oslo.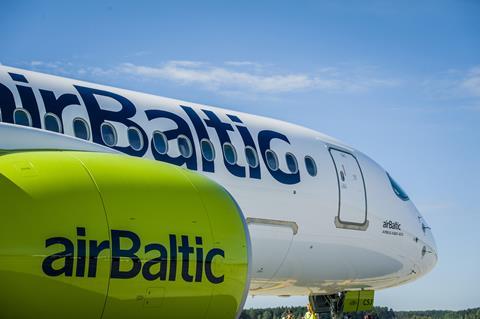 "When preparing for the upcoming season, we always carefully analyse the market dynamics," says Air Baltic chief executive Martin Gauss. "For winter months, when the overall passenger demand worldwide is traditionally lower, we have identified an opportunity to optimise our capacity to be as efficient as possible – by establishing a seasonal base and operating two aircraft from Las Palmas to serve the demand for sunny and leisure destinations."
Most of the services from the Spanish island will begin in early December, aside from the October launch of Gran Canaria-Riga flights. Air Baltic does not say for how long the base will operate.
The carrier has frequently discussed operating from airports beyond Riga, Tallinn and Vilnius – a strategic move given more urgency by the dampening affect on demand of Russia's invasion of Ukraine in some of its key markets and the continued expansion of its fleet via the delivery of more Airbus A220-300 jets. Amid those factors, Air Baltic opened a single-aircraft base in Tampere, Finland in May last year, in a move announced pre-war.
Air Baltic is also wet-leasing out at least 14 of its 40 or so A220s for the current summer season, including to Lufthansa Group. But it continues to take delivery of A220s from a 50-aircraft order and has options on a further 30 of the type.
Gauss told FlightGlobal in April that the Baltic countries could accommodate around 40 A220-sized jets by end-2025 – some 10 fewer than it identified before the pandemic and Russia's invasion of Ukraine. Non-Baltic bases and the wet-leasing out of capacity have therefore become integral to Air Baltic's strategy.