Air France-KLM Group has recorded a €520 million impairment from its early phase-out Airbus A380 operations, and another €72 million from withdrawal of A340s for the second quarter.
But it says it intends to keep the schedule of committed fleet deliveries for 2021-25 "as much as possible intact", and is "carefully considering" financing options and maintaining the "highest level" of fleet-development flexibility.
The group says its future competitiveness is "largely linked" to network and fleet decisions, and medium- to long-term fleet investments will "drive the exit" from the crisis.
Air France-KLM Group's exceptional A380 and A340 charges contributed to a second-quarter net loss of more than €2.6 billion for the company.
It turned in an operating loss of €1.5 billion for the second quarter, and nearly €2.4 billion for the half-year.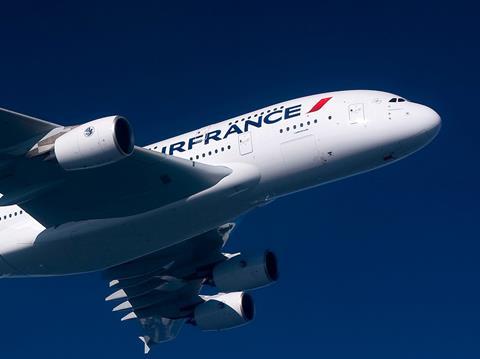 Along with the fleet retirement charges the company has also absorbed a restructuring cost provision of €188 million for a KLM voluntary departure plan and another €37 million for a similar plan for Air France pilots.
Group chief Ben Smith says the company's activity was "virtually at a standstill" in April, as it entered the second quarter.
"The cost reduction and liquidity preservation measures rapidly implemented have nevertheless enabled our operational losses to be reduced," he says.
Smith states that the French and Dutch governments have provided "exceptional support" to the group, giving it the liquidity necessary to survive the crisis.
"However, the uncertainties linked to the health situation, the opening of borders and the general economic situation are very strong," he says.
The company needs to "accelerate" its transformation plan, he says, to improve its economic and environmental performance.
Air France-KLM Group expects to operate capacity level for 2021 which is down by at least 20% compared with 2019, with recovery to pre-crisis figures only by 2024.
The restructuring of Air France requires a reduction of 6,560 employees by the end of 2022, while regional operation Hop will lose just over 1,000.
KLM has initiated a voluntary departure plan to which 2,000 personnel have signed up. The carrier is set to unveil full details of its restructuring plans by October.
Air France-KLM Group says it is maintaining its medium-term financial target, but will push it back by a year, setting the objective of a 7-8% operating margin and positive operating free cash-flow in 2023. Capital investment levels for 2021-24, it says, will be around €3 billion per year.