The chief executive of Air France-KLM has expressed concern over further staffing shortages and aircraft delivery delays, as he looks ahead to the busiest travel months of the year.
Ben Smith's comments came after tough operational challenges at KLM in recent weeks, where disruption and flight cancellations have affected services at the Dutch flag carrier's Schiphol hub.
"We had an experience at Amsterdam Schiphol, which we've never seen before, over the last two or three weeks where everything came together and it was a bit of a wake-up call for us," Smith said during the Paris Air Forum on 7 June.
"We had staff shortages throughout, both at KLM and also with Schiphol. On top of that there was a big demand for increased salaries because of inflation.
"So it all came to a head and the airport got overwhelmed and we had to make some difficult cancellations."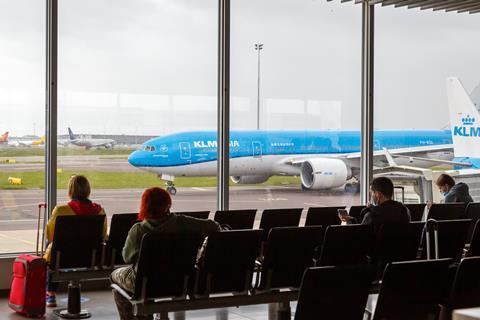 That experience has left Smith "quite concerned about the readiness of airports and many of the services" that support the group's two network carriers and low-cost unit Transavia – both within Europe and elsewhere – as he looks towards the summer peak period.
"Certain positions and certain support functions such as security, frontier police or any of the other support functions, there is a lack of employees who are interested in this work, and if we do finally locate or find people, there is a training delay," Smith states.
And while the airline chief notes that problems have not yet been seen at Air France's Paris Charles de Gaulle home, "we are quite concerned" that similar issues will soon be experienced there, too.
"We know security is going to be a difficult situation, we know we are going to have challenges with the police," Smith says.
Adding to Smith's concerns about the summer are delays to the arrival of brand-new Boeing 787s at KLM, as the airframer awaits US Federal Aviation Administration clearance to restart deliveries.
"We had scheduled 787s coming into the KLM fleet, and of course we are keeping old airplanes to ensure we have back-up – that's another concern," he states.
Amid these challenges, Smith insists the group is aiming to be "as ready as possible for July", but that he is expecting to see "big delays" at airports.