Air India Express has launched its new branding, weeks after taking delivery of its first two Boeing 737 Max jets, as Air India Group continues its transformation and growth under Tata Group ownership.
The livery was unveiled on 18 October, with the merger of Air India Express and AirAsia India under the former's name "now in the final stages", says Air India chief executive Campbell Wilson.
The new branding incorporates an "energetic and premium colour palette", the airline says, with aircraft having "a variable tailfin design inspired by the rich art and crafts heritage of the country".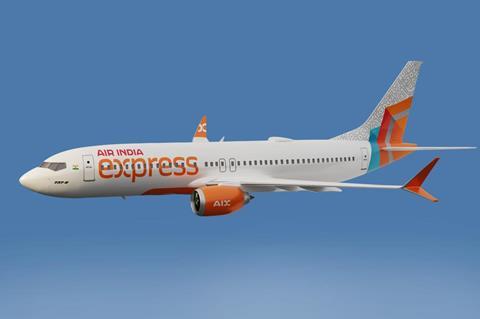 Air India Express managing director Aloke Singh explains that with a total of 50 Max aircraft due for delivery over the next 15 months, the low-cost carrier will almost double in size from the 58 aircraft – 28 737s and 28 Airbus A320s – it has today, on its way to a 170-aircraft target within the next five years.
The Max deliveries – which Cirium fleets data indicates began in late September with the arrival of two units – come from Air India's huge orders for more than 500 aircraft, including 190 Max jets, that were firmed at this year's Paris air show.
Of the integrated carrier's current fleet, the A320s come from the AirAsia India side of the business, with the pre-merger Air India Express being a 737 operator.
The combination of the two low-cost units was announced as part of an overhaul of the Air India Group initiated under the ownership of Tata.
Mainline carrier Air India unveiled its new livery on an Airbus A350 earlier this month.