Air Madagascar has been placed under a court-appointed restructuring process, the Indian Ocean island nation's government has disclosed.
The flag carrier is now under a collective liabilities settlement procedure, or procedure collective d'apurement des passifs after incurring an "operating deficit/cumulative loss" of around $80 million, says the transport ministry.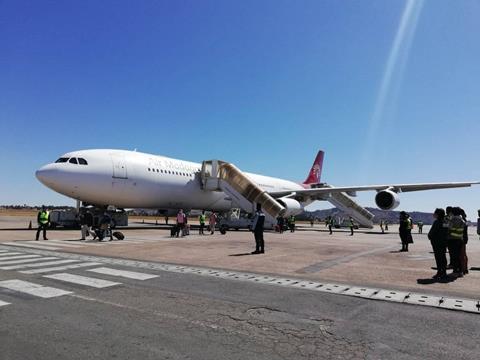 A statement from the Malagasy presidential office highlights ATR leasing costs at "double" the normal price and "uncontrolled" management costs, which it links to Air Madagascar's partnership with Air Austral.
It adds that Air Madagascar's fixed charges have also continued to rise and that employee numbers "far exceed what the company really needs".
An in-depth audit of all the debts incurred by the airline will now be undertaken by the accounts commissioner. In addition, all agreements or contracts entered into by Air Madagascar must be terminated.
The stated objective of the restructuring process, the ministry says, is to ensure "reliability, regularity and punctuality", while also implementing a digitisation of management procedures and ticketing operations.
The airline tells Cirium that because legal proceedings are still ongoing, it is not possible to give any information about the restructuring process and its modalities at this point. An official and detailed communication will be made as soon as possible, it adds.
In October 2017 Air Austral signed a strategic partnership to acquire a 49% stake in Air Madagascar. In 2020 the partnership came to an end when Air Austral exited its shareholding, leaving the Malagasy government with a direct 51% stake in the airline and government agency Caisse Nationale de Prevoyance Sociale controlling the remaining 49%.
Malagasy media outlet 2424.mg reports that Air Madagascar is to be merged with its domestic subsidiary Tsaradia and renamed Madagascar Airlines. The joint company intends to lease a Boeing 787 to serve the Antananarivo-Paris route, lease an Embraer 190 on an ACMI basis for regional flights, and reinvigorate its MRO division.
Air Madagascar declined to comment on the reports, citing the ongoing legal process.
The process takes places as Madagascar prepares to reopen its borders to international traffic following the imposition of Covid-19-related restrictions.
The country's civil aviation authority stated on 14 October that commercial flights operated by Air Austral and Air Mauritius on inter-island routes from Mauritius and La Reunion to Madagascar would resume from 23 October.
Commercial flights operated by Air Madagascar and Air France from the African state to Europe are authorised to resume from 6 November.