Air New Zealand (Air NZ) has selected four aircraft providers – Beta Technologies, Cranfield Aerospace Solutions (CAeS), Eviation, and VoltAero – for its Mission NextGen programme, which will see the carrier perform commercial demonstration flights of low-emission aircraft from 2026.
Following the initial phase of the programme, Air NZ will then select which aircraft will form the backbone of its new regional fleet, replacing ageing De Havilland Canada Dash 8 Q300s on domestic routes from 2030.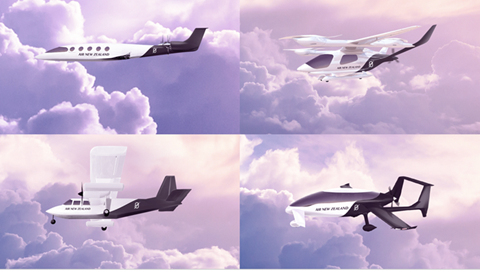 The companies involved in the project are drawn from across the globe, with their aircraft employing different propulsion solutions and operational models.
Vermont-based Beta Technologies will supply its five-passenger ALIA electric vertical take-off and landing aircraft; UK firm CAeS will provide three Britten-Norman BN2 Islanders converted to run on hydrogen fuel cells; Eviation of the USA its Alice all-electric aircraft; and France's VoltAero its Cassio 330 hybrid-electric five-seater.
In each case, Air NZ has signed a "statement of intent to order", which will see the carrier take three aircraft initially for the demonstration phase, with options for a further 20, subject to an evaluation process.
Greg Foran, Air NZ chief executive, says: "Mission NextGen Aircraft is not about backing one innovator. It's about working with a range of leaders in zero-emission aircraft technology to help move the whole ecosystem along.
"Our goal is to confirm our commitment with one or more of these partners in the next 12 months with the ambition of purchasing an aircraft for delivery from 2026.
"The learnings we will take from flying an aircraft with next generation propulsion technology from 2026 will then pave the way for our long-term partners to deliver an aircraft that can replace our Q300 turboprop domestic fleet."
Air NZ announced the Mission NextGen accelerator programme in November, building on a set of specifications for a future aircraft released in December last year which drew responses from over 30 aircraft developers, the airline says.
In addition to the 23 50-seat Q300s, Air NZ's domestic turboprop fleet also includes 29 68-seat ATR 72-600s, which will come up for replacement in the mid-2030s.
Jenny Kavanagh, chief strategy officer at CAeS, says the initiative is an example of the "collaboration that is needed" to drive aviation's decarbonisation.
Selection of the converted Islander by Air NZ is also a "statement of credibility" for the programme, she adds.
"The size of the airline and the fact that it has been established for a long time as one of the sustainability leaders in the airline industry is a big boon for us.
"They are currently not flying anything smaller than a -8 but are really trying to embrace the opportunities that new technology brings."
Jean Botti, chief executive of VoltAero, says he is "very proud" of its selection by the carrier.
"It's the first big international big company to have signed up with VoltAero; we have lots of regional airline customers up to now but [Air NZ] is an international company."
He confirms the demonstration flights will be conducted with the Cassio 330, targeted for certification in 2024.
VoltAero is developing two follow-on aircraft, the six-seat Cassio 480 and 10-12-seat Cassio 600, and Botti suggests the latter would likely be of greater interest for Air NZ in the longer term: "I think ultimately that for their needs that would be probably the most appropriate thing," he says.
VoltAero's parallel hybrid-electric powertrain could ultimately be scaled up for a 20-seat passenger aircraft, he adds, but is dependent on improvements to battery technology.
"Things have to happen in that domain and that's why we are focussing on the best available technology today that will allow you to have an electric aircraft."
CAeS is also planning successors to its converted Islander, progressively growing in power and range, and moving from the use of existing airframes into clean-sheet designs. The first of these – a 19-50-seat regional aircraft – would arrive in the early 2030s, followed by a 75-100-seater in around 2035.
But first, CAeS needs to complete the development of the seven-seat Islander. Bench and ground tests were due in 2022, but have now been pushed into 2023 due to supply chain constraints.
A first flight of the converted BN2 is due towards the "back end of next year", says Kavanagh, as the company works towards its target of achieving supplemental type certification for the modification in 2025.
However, she sees no impact on the overall timeline from the delays, with work already under way on the production version of the propulsion system.
"We pretty much know now what we need to be doing for the production [version] it's just a matter of getting a team on it.
"The flight of the demonstrator is a really exciting milestone and extremely important for testing those final things you can't test on the bench or ground, but in terms of the design we are pretty much there."
Botti, meanwhile, points to the more than 135 flight hours VoltAero has accumulated over the last two years with its 600kW powertrain aboard its Cassio 1 demonstrator – a converted Cessna 337 Skymaster. In all, over 175 flights have seen the aircraft travel in excess of 10,000km.
VoltAero's architecture sees the Cassio aircraft use electric motors in the aft fuselage-mounted propulsion system for all-electric power during taxi, take-off, primary flight, and landing, while the thermal engine serves as a range extender – charging the batteries in flight – or as an emergency back-up.
Eviation chief executive Gregory Davis adds: "Regional flights make up a sizeable proportion of Air New Zealand's routes. The Alice offers an effective way to decarbonise these journeys, revolutionising air travel and supporting the goals of the Mission NextGen programme."

Dominic Perry is deputy editor of Flight International but also contributes extensively to flightglobal.com. Although specialising in the coverage of the helicopter industry, he has written on most topics in aerospace – be they commercial, defence or business aviation. In addition, there has been an increasing focus on the decarbonisation of the industry and zero-emission flight initiatives.
View full Profile