New Guinea carrier Air Niugini has ordered a pair of Boeing 787-8s, which will be used to expand its international network.
Announcing the order, Boeing did not give a value or a timeline for deliveries.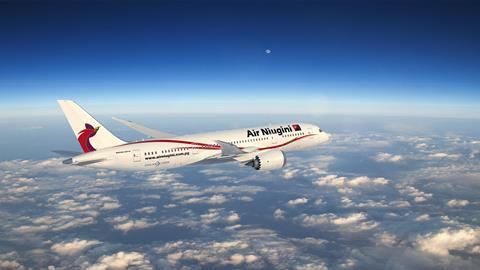 "Signing this contract with Boeing for the purchase of two modern, widebody 787 Dreamliners will enable Air Niugini to grow its network across Asia, Australia, and New Zealand and fulfill its mission as the premier airline in Papua New Guinea, providing the best air service in the region," says Gary Seddon, acting chief executive of Air Niugini.
The aircraft will see new routes added, and boost capacity for inbound tourism to New Guinea.
Cirium fleets data indicates that Air Niugini had ordered a single 787-8 ordered in 2007, but that this was cancelled in May 2019.
As for its existing fleet, Air Niugini has 10 aircraft in service and eight in storage.
In-service aircraft comprise two 767-300ERs, one 737-800, four Fokker 70s, two Fokker 100s, and a single Dassault Falcon 900.
Stored assets comprise five Fokker 100s, two Fokker 70s, and a single De Havilland Canada Dash-8 Q400.
The airline also has orders for four 737 Max 8s, in a deal originally announced at the 2016 Singapore Airshow. Cirium indicates that these four aircraft will, following deferrals, not be delivered until 2028.