Air Niugini will acquire 11 new Airbus A220s to replace its aging fleet of Fokker regional aircraft.
Deliveries of the A220s are likely to start in 2025, as part of a 13-aircraft commitment - worth over PGK22.5 billion ($6.2 billion) - to renew its fleet, the airline states in a Facebook post.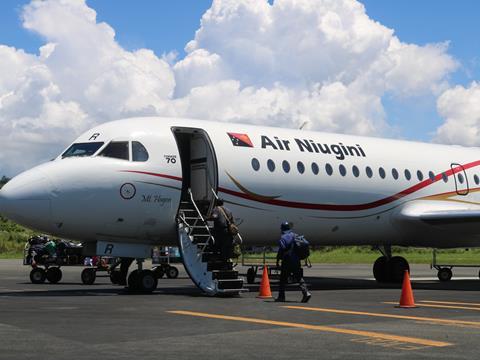 The airline in June ordered two Boeing 787-8s, which will replace its aging 767-300s.
Papua New Guinea state enterprises minister William Duma says the Airbus order has been approved by the government, paving the way for the airline to proceed to "the next phase of the project".
Air Niugini acting chief Gary Seddon says the potential order is the first time the carrier has committed to new regional jets.
He adds: "We are moving from analogue to digital. The Fokker jet aircraft have done their part for the last 25 years and it's time to replace them with a game changer aircraft."
The commitment makes Air Niugini the latest A220 customer in the Asia-Pacific region. Australian national carrier Qantas in 2022 firmed up its commitments for A220s, while Korean Air is an existing operator.
According to Cirium fleets data, the Port Moresby-based carrier has eight in-service Fokker jets, comprising four Fokker 100s and four Fokker 70s. Another five Fokker aircraft are in storage.