Air New Zealand will delay taking delivery of more Boeing 787s for at least a year, as the carrier expects to plunge deeper into the red for its full-year financial results.
In a profit guidance issued on 18 June, the carrier expects full-year, pre-tax losses before signfiicant items to be not more than NZ$450 million ($315 million) - the carrier's 2021 financial year ends on 30 June. This compares to the NZ$87 million loss it made in the previous year — its first loss in 18 years.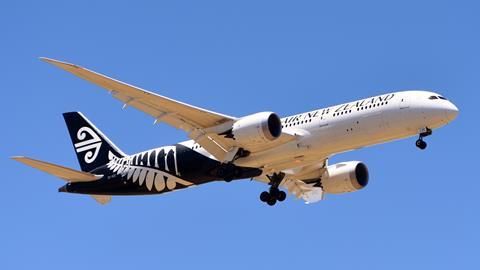 It also expects a dismal 2022 financial year, with losses on par with 2021.
On aircraft deferrals, Air New Zealand says that the first of eight 787s that it ordered in 2019 were to be delivered from July 2022, but these have been delayed for a year.
"The airline also retains the ability to utilise a number of further contractual delivery deferral rights on other aircraft due to be delivered from 2024 onward," states Air New Zealand, which has one 787-9 and seven 787-10s on order.
The latest development follows the carrier's announcement in February that it was mulling "opportunities to adjust" its widebody fleet, including deferring its 787 deliveries and axing a number of 777-300ERs.
The widebody deferrals come as the airline expects "no meaningful recovery in long-haul demand" in the coming year, and intends to double down on its domestic air travel business in the near term.
In its earnings guidance, Air New Zealand states that "strong and sustained" recovery in domestic travel demand — as well as in its cargo business — have helped soften the impact of the coronavirus pandemic.
Long-haul international demand remains in the doldrums — with traffic at just 5% pre-pandemic levels. New Zealand has shut its borders to curb the spread of the coronavirus.
"Domestic capacity is now at approximately 90% of pre-Covid levels, and corporate demand continues to show strong signs of recovery, averaging around 80% of historical levels for the past three months. Importantly, our domestic load factors are also tracking in a similar range," the Star Alliance carrier discloses.
To this end, airline chief Greg Foran says the carrier will be "further strengthening" its "core domestic business", though he did not provide more details.
The airline also notes that the travel bubble arrangement with Australia — first rolled out in April — has helped boost revenue. Traffic levels on the its Trans-Tasman network are currently at 70% pre-pandemic levels.
As for the cargo business, Air New Zealand states that the government's Maintaining International Air Connectivity scheme — where it operates around 30 international cargo flights weekly — has helped boost its revenues.
The airline states: "Government financial support under the air cargo support schemes is expected to contribute between NZ$320 million and NZ$340 million in total cargo revenue."
Still, Air New Zealand has warned that its immediate future remains uncertain, citing the lack of clarity in international border reopening, as well as the progress of a global inoculation drive.
It warns: "While demand on the airline's domestic and short-haul networks is currently showing positive momentum, if there are further border restrictions or lockdowns, there is no certainty that this momentum will continue."
While it notes that long-haul travel demand will remain low for the near-term, it has raised the potential of progressive border reopening in early 2022.
"Underlying operating performance is expected to gradually improve over the coming financial year but international border reopenings, fuel and currency fluctuations, and the recovery of long-haul travel demand continues to remain highly uncertain. All of these factors are important to the airline's financial performance," says the carrier.