Air New Zealand expects to report a lower half-year profit, as it flags "volatile" fuel prices, increased competition, as well as uneven travel demand.
For the six months to 31 December, the airline forecasts a pre-tax profit of between NZ$180 million and NZ$230 million ($108-188 million), lower than the NZ$299 million profit it posted in the year-ago period.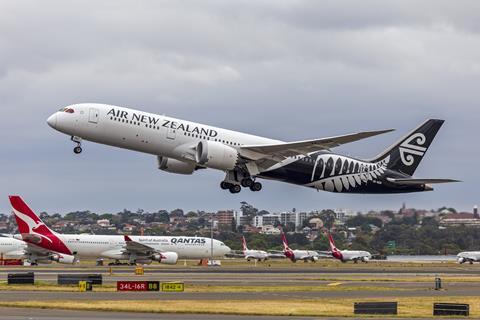 The Star Alliance carrier notes the "ongoing volatility" of jet fuel prices, which it calls a "critical input cost". Between July-September fuel prices rose 35% followed by a 10% fall in October.
It adds that while demand "remains solid" across most markets, it has observed "recent softness" in domestic demand, especially in the corporate travel sector.
The carrier says: "The economic environment continues to be uncertain and future performance may be impacted by a number of factors. These factors include increased international competition, volatile fuel prices, currency fluctuations and ongoing inflationary pressures."
It also cautions against "extrapolating" its forecast to full-year earnings, given "ongoing uncertainties" in the operating environment.
Air New Zealand adds that operational reliability issues surrounding the Pratt & Whitney PW1100G engines which power its fleet of Airbus A321neos are not expected to heavily impact its first-half earnings.
The airline in early September warned of "significant" schedule changes from January 2024, as the technical issues and required inspections will impact engine availability.