Air New Zealand is to return to service the last of seven stored Boeing 777-300ER aircraft, amid indications that "customer demand is higher than ever".
The aircraft (ZK-OKM, MSN38405) has departed Victorville, California – where it has been stored since 2020 – on its way to Auckland via Singapore, states the carrier.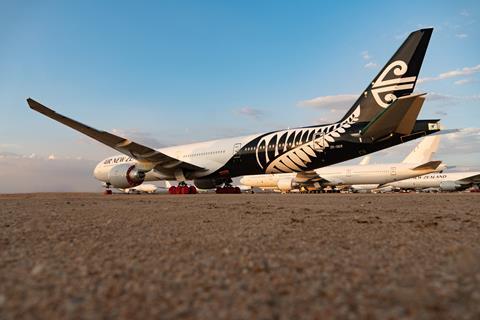 The aircraft will return to commercial service on 13 May operating to San Francisco. Cirium fleets data shows the aircraft was delivered to the Star Alliance carrier in 2010 and is airline-owned.
Air New Zealand stored its fleet of 777-300ERs in 2020 amid a collapse of travel demand brought about by border closures during the pandemic. Three examples were stored in Auckland, while the remaining four jets were parked in Victorville.
The latest aircraft reactivation took seven weeks, says Air New Zealand, with more than 100 staff involved.
Operations chief Alex Marren says: "Having all of our 777-300s back will help build more resilience and more seats into our international operation, meaning we can fly more customers to where they need to go."
The reactivations come a day after the airline announced it was repainting all remaining aircraft sporting its earlier, teal blue livery.
Eight remaining De Havilland Dash-8 Q300s will be repainted into its black-and-white livery. The airline has more than 20 Q300s in its fleet, according to Cirium fleets data.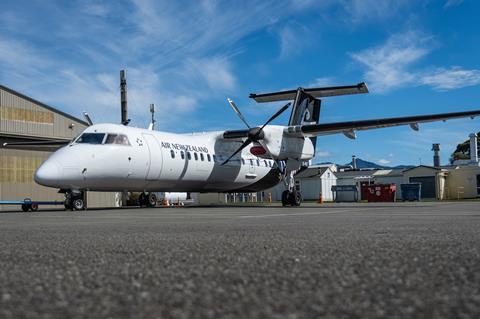 Over the next four months, the turboprops will be sent to Airbus facilities in Blenheim, New Zealand, for repainting works. The Blenheim facility is used by Airbus to repaint military aircraft, "but provides the perfect location to repaint these smaller turboprop aircraft", states the carrier.
It marks the first time that the airline is repainting its Q300s in New Zealand. Airline general manager of engineering and maintenance Brett Daley says such work is usually done in Australia.
"We're really excited about this opportunity to work with Airbus on the repainting of these planes…It's fantastic to have the capability to do this in our own backyard," he adds.