Air New Zealand has unveiled more details about its "game changer" economy class sleep pod product – including price, configuration and which routes it will be deployed on – as it prepares for a 2024 service entry.
The Skynest concept, announced in 2020 before the Covid-19 pandemic hit, will be installed on Boeing 787-9s, and will launch on flights between Auckland and New York, as well as Chicago, from September 2024. The airline currently flies thrice weekly to New York and Chicago.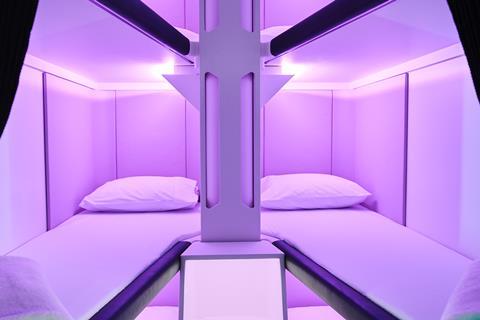 The concept features six pods, each fitted with pillows, sheets, blankets, ear plugs, lighting and ventilation outlets. The Skynest – designed and manufactured in New Zealand – will be located between economy and premium economy cabins.
Air New Zealand says the usage of Skynest will be in four-hour blocks, with passengers limited to booking one session per flight.
"We're still working through the exact details of how the booking process will work, and we have yet to determine the price. At this stage are looking at around NZ$400 ($253) to NZ$600 for the 4-hour period," adds airline chief customer and sales officer Leanne Geraghty.
She adds that the North American market is "perfect" for the Skynest concept, "as it has a premium segment that values comfort and sleep during long-haul travel".
The update follows plans for "significant investment" in its fleet and cabin products, as Air New Zealand inches towards pre-pandemic recovery.
The Skynest concept was confirmed in June 2022, as part of a raft of cabin upgrades set to roll out from 2024. The airline also announced a new suite-like product, known as Business Premier Luxe, which has "all the features" of its existing Business Premier product, "but with a fully closing door and space for two to dine".
Air New Zealand in June last year also confirmed that Business Premier, premium economy and economy products are to get a refresh, with the airline introducing new seats across the three cabins.