Air New Zealand is set to make significant investments in its fleet, capacity and marketing over the next five years, as the airline closes in on pre-pandemic recovery.
Airline chief Greg Foran says the airline will invest about NZ$3.5 billion ($2.2 billion) in new aircraft and cabin retrofits. The new jets comprise eight Boeing 787s comprising a mix of -9s and -10s, as well as five Airbus A320neos, all of which are in its existing orderbook.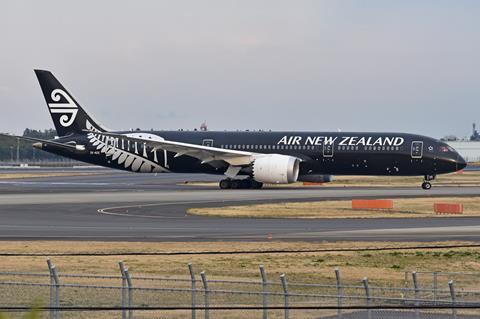 Foran also discloses that Air New Zealand is "in final negotiations" to lease a 777-300ER to beef up capacity, bringing its fleet of 777s to eight examples.
The investment also covers ongoing work to update its cabin products, which was first announced in June 2022. The new products, which cover all cabin classes and includes a sleep-pod concept in economy class, are set to debut in 2024 on its 787s.
Foran, who was speaking at a tourism business event in Christchurch, says the airline's international capacity is making good recovery and is now around 91% pre-pandemic levels.
Asia capacity is currently 17% above pre-Covid-19 levels, with the airline stating that Singapore "remains a key hub" for connections to India and Europe. Demand from Mainland China "is slowly rebuilding", with the airline recently restarting flights to Shanghai.
The airline's North American network is "close to" full capacity recovery, with the airline adding more seats to Houston, San Francisco and Vancouver. New York, in particular, is a "valuable and promising market" for the airline, notes Foran.
"The route has demonstrated strong demand since its launch in September [2022] and presents untapped potential for us to attract high-value customers and showcase the best of what our country has to offer," he adds.
On the domestic network, the airline has fully recovered to pre-pandemic capacity, and is looking to add more seats.
An optimistic Foran adds: "Our fleet investment, capacity update, and marketing spend represent a significant commitment to New Zealand's tourism industry. By investing in new and retrofitted aircraft, adding more seats to our international routes, and increasing our marketing presence in key markets, we're making it even easier for visitors to tick New Zealand off their bucket lists."
The airline was profitable in the six months to 31 December 2022, as it swung to a pre-tax profit of NZ$299 million on the back of strong recovery in domestic and international air travel.