Air New Zealand will suspend two international routes owing to expected availability issues with Pratt & Whitney PW1100G and Rolls-Royce Trent 1000 engines.
The PW1100G issue has also resulted in the airline tweaking its network, including the consolidation of some flights, and moving aircraft to different routes, says chief executive Greg Foran.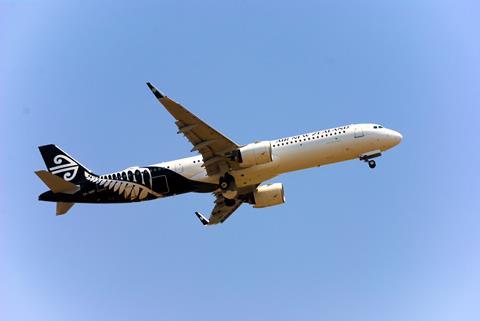 He estimates that maintainence work for the PW1100G could impact the airline's services for up to two years, with one to four of its 17 A320neo-family jets grounded at any one time.
The groundings stem from P&W's disclosure in September that up 700 engines globally will require comprehensive inspections from 2024-2026. Foran adds that other supply chain issues are also a problem.
As such, the PW1100G issue will see Air NZ suspend its Auckland-Hobart service from 5 April 2024.
In addition, the airline will suspend its Auckland-Seoul service from 1 April 2024. The service opearated by Boeing 787-9 widebodies powered by Rolls-Royce Trent 1000s.
"The pause on flying to Seoul is to allow more resiliency when the Trent 1000 engines that power our 787 fleet go for regular maintenance due to potential issues with the availability of spare engines from Rolls-Royce to cover the maintenance period," says Foran.
"While both routes have performed well, we need to ensure we can deliver a reliable service across the rest of our network and get customers on our most in-demand routes to where they need to be. Customers will still be able to book to Hobart and Seoul with Air New Zealand, but these flights won't be direct and will be partly operated by our partner airlines.
Foran adds that the airline is looking at leasing aircraft to help shore up capacity, with a leased 777-300ER set to enter service.
On 11 September RTX, the parent of P&W, revealed more fully the impact of defective high-pressure turbine and compressor disks in PW1100Gs – one of two engine options offered by Airbus for A320neo-family jets.
Due to newly implemented inspection and maintenance requirements, RTX expects "an average of 350" GTF-powered A320neo-family jets will be grounded "from 2024 through 2026, with a peak of 600 to 650 aircraft-on-ground in the first half of 2024".
The issue has created significant challenges for airlines globally, and has impacted the earnings of aerospace companies linked to the programme.