Air Vanuatu has cancelled flights to Australia and New Zealand after mechanical issues forced the grounding of its sole Boeing 737-800.
The carrier's woes were compounded by a lack of spare parts, forcing it to extend flight cancellations through 7 April, a week after the aircraft issues were first discovered.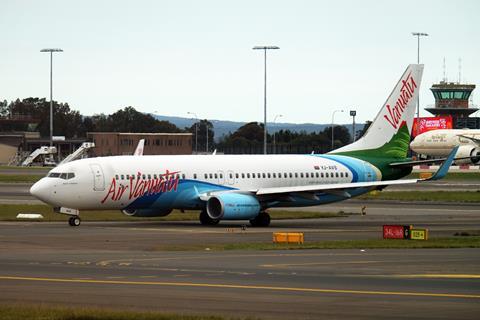 In a statement issued 4 April, the airline says it is sourcing the parts "with urgent support" from Boeing offices in the USA and Australia, and that this was causing further delays to an operational restart.
Air Vanuatu says it has reached out to other Pacific carriers for assistance to carry stranded passengers, "however there is little capacity to do so", noting that all flights have been "fully ticketed".
"Guests who have not yet begun their travels will not be able to do so until this weekend at earliest," the carrier states.
The cancellations come amid the busy Easter travel season, as well as the school holidays in Australia and New Zealand. It also comes less than a month after Air Vanuatu restarted international flights after the country was hit by a tropical cyclone.
According to Cirium fleets data, the airline operates only five aircraft: a 737, a sole ATR 72, one Britten-Norman BN-2B Islander, as well as two Viking Air DHC-6s. The airline deploys the 737 on flights to Sydney, Melbourne, Brisbane and Auckland, while its turboprop fleet flies to neighbouring Pacific nations, as well as on domestic routes.
The grounding is the latest in a string of operational snares to hit the airline in the past 6 months. In November 2022, maintenance works on its ATR 72 meant it had to deploy the 737 on domestic routes, which forced a number of schedule changes.
A month later, it cancelled international flights after it found a mechanical issue on the 737. During that period, it tapped on its partnership with Australian carrier Qantas to help carry stranded passengers from Vanuatu.
Cirium fleets data indicates that the grounded 737 (YJ-AV8, MSN42052) was first delivered to the airline in 2016. It is managed by lessor Air Lease Corporation.
The airline has several occasions spoke of expanding its jet aircraft fleet, even placing orders for the Airbus A220 in 2019 which was later cancelled.