AirAsia Aviation swung back to the black in their first-quarter earnings on the back of strong international travel growth, as it eyes a "return to normalcy" this year.
For the three months to 31 March, the airline unit of Malaysia-based Capital A, reported positive EBITDA of around MYR501 million ($109 million), reversing the MYR270 million loss in the year-ago period.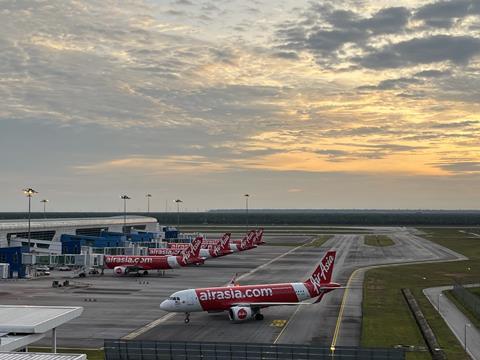 Revenue for the airline group jumped more than three-fold year on year to MYR2.2 billion, helped by a rise in domestic and international travel, as well as a rise in airfares. Capital A also notes the figure is about 85% that of the revenue reported in the same quarter of pre-pandemic 2019.
The group, which has units in Malaysia, Thailand, Philippines and Indonesia, carried close to 8.6 million passengers during the quarter, more than twice the numbers reported in 2022. Traffic nearly tripled, while capacity grew two-fold year on year.
Tony Fernandes, CEO of Capital A, notes: "Our aviation business has achieved promising improvement, driven by the stabilisation of operational costs thanks to lower fuel prices and maintenance expenses."
The airline group has about 157 aircraft in operation now, and says it is on track to fully returning to service its fleet of over 200 jets by the July-September quarter.
It also intends to "reallocate aircraft to operating countries that has stronger demand" though it did not elaborate further.
However, it flags ongoing supply chain issues that are posing a challenge to the delivery of its new aircraft.
The group has over 300 Airbus A321neos on order, and is expected to take delivery of the first two examples in 2024. It states that three aircraft meant to be delivered in 2024 have been deferred to 2025, while five aircraft due in 2026 have been pushed back two years.
On network, AirAsia Aviation is expected to grow its group network beyond its pre-pandemic size, operating 290 routes by the end of the year, 25 more than 2019's network. Its airline units will also fully reinstate their China operations before the end of the year.
AirAsia Aviation had previously indicated its China capacity is likely to surpass pre-pandemic levels by the end of the year, with its Malaysian and Thai units leading the ramp-up.