AirAsia Aviation units were operating at less than half of pre-pandemic capacity – with total passenger volume also far from 2019 levels – despite seeing an "exceptional increase" in demand as international travel resumed in 2022.
In full-year operational results, AirAsia Aviation parent Capital A says the airline units in Malaysia, Thailand, Indonesia and the Philippines were operating at around 47% capacity compared to pre-pandemic 2019.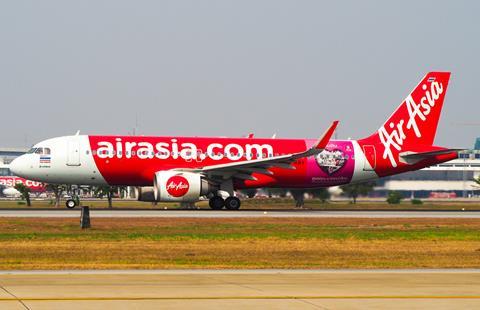 This is even as the aviation group saw a four-fold rise in capacity year on year, as it returned to service more aircraft from storage. The group hopes to return its full fleet of over 200 jets by mid-2023.
The four AirAsia carriers flew more than 34 million passengers in 2022, also a four-fold increase compared to 2021. However, the figure is only 46% that of 2019 volumes, notes Capital A.
Much of the boost came from full border reopening in most of AirAsia's key markets in Asia. Capital A adds that the aviation units were recovering passenger volumes faster than capacity, especially in the last quarter of the year.
"The aviation segment remains firmly on a strong recovery path post-pandemic transition with added impetus from rapid resumption of international travel. Benchmarked against the corresponding pre-Covid performance in [fourth quarter of 2019], Capital A's consolidated airlines had recovered passenger volume faster than capacity restoration in [fourth quarter of 2022]," states Capital A.
AirAsia's Malaysia unit carried 16.8 million passengers in 2022, more than five times compared to 2021. Passenger volumes were below half of pre-pandemic levels, at just 48%.
Meanwhile, full-year ASKs soared five-fold, while traffic jumped six-fold year on year.
Philippines AirAsia carried 4.2 million passengers in 2022, up more than four times year on year, but only about half of 2019 levels.
Indonesia AirAsia, meanwhile, saw a four-fold increase in passenger volume, carrying around 3.2 million passengers in 2022.
Lastly, for Thai AirAsia, it carried 9.9 million passengers, about three times more than 2022 numbers. Capital A notes that it recovered traffic strongest in the final quarter of the year, with the airline operating at 72% pre-pandemic capacity, and passenger numbers for the quarter – at about 4 million – close to 75% that of 2019 levels.