AirAsia Group carriers are seeking cash and eyeing tough restructuring measures as they grapple with the effects of the Covid-19 pandemic.
The group's low-cost long-haul arm, AirAsia X has "run out of money" and needs fresh capital, newly appointed deputy chairman Lim Kian Onn told Malaysian paper The Star in an interview published October 17.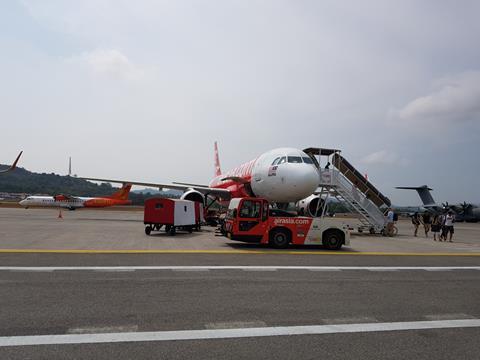 "We looked at the business plan and calculated that we need up to MYR500 million ($120 million) to jumpstart the airline. We had to make certain assumptions on how Covid-19 will pan out. In this case, we made the conservative assumption that it will be a slow recovery to normalcy," he told the paper.
He says the airline is not assuming it will get government help.
AirAsia X announced on Oct 6 plans to restructure debt and cut aircraft from its fleet as part of a major overhaul to deal with the downturn.
Talks are ongoing with creditors, including Airbus and Rolls Royce, Lim said.
"We have been talking to them for two months. All of them are understandably upset. We put our hands up and say we are guilty. We owe you money. I would be aggrieved if I were them."
Lim added that AirAsia X was shutting its Indonesia operations and had written down its stake in its Thai arm.
"We are liquidating Indonesia. The planes are back with us," he stated.
Among other affiliates, AirAsia Japan ceased operations on 5 October and according to local reports, AirAsia Group is no longer providing funding to its Indian arm.
The chief executive of AirAsia Philippines also said on 19 October that it is seeking new funding from financial institutions. "We are in talks with financial institutions to acquire or raise fresh cash for working capital purposes," Ricky Isla told The Philippine Star.
Meanwhile, AirAsia founder Tony Fernandes said this week that countries will need to learn to live with the virus.
"At some point, countries have to take a little bit of risk to reopen, as we cannot live in a cave for the rest of our lives. We have to live with this virus as we have with others before like the common cold or dengue," he was quoted as saying in the Bangkok Post on 19 October.
AirAsia X's Lim said he believed travel demand could come back in an explosive fashion if a vaccine is found.
Still, he said the long-haul arm is planning a "more focused" business plan in the future, concentrating on medium-haul routes.
"The first three years will see us shrinking our fleet significantly," he was quoted as saying.
"Getting our profits up will be our priority, not market share."