AirAsia Group has disclosed that it extended approximately $40 million in advances and corporate guarantees to Philippines AirAsia in November-December.
The low-cost airline group on 19 November provided a $19.1 million corporate guarantee to Filipino bank BDO Unibank. This was in relation to the restructuring of a three-year, $35 million loan to Philippines AirAsia, the group says in a 26 February disclosure to Bursa Malaysia.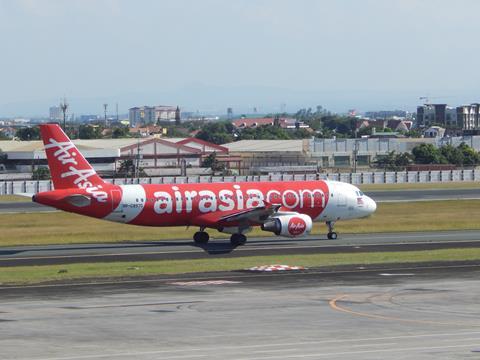 On 29 December, AirAsia Group through AirAsia Berhad provided AirAsia Inc with a corporate guarantee and cash advances amounting to Ps991 million ($20.4 million), with Citibank Philippines as the beneficiary. In support of that move, AirAsia Group pledged one of AirAsia Berhad's spare engines for an uncommitted short-term revolving credit facility applied for by Philippines AirAsia.
AirAsia Group's latest annual report for 2019 indicates that AirAsia Berhad is the legal name for the Malaysia-based LCC AirAsia, and AirAsia Inc refers to the AirAsia Philippines airline. The same report states that AirAsia Group's effective equity interest in the Filipino carrier stood at 40%.
The group says in its latest disclosure that the financial assistance was provided "in the ordinary course of business and to facilitate the running of the operations and financial affairs" of AirAsia Philippines.
It adds that these do not have any material effect on its earnings per share, net assets per share and gearing of the company and its subsidiaries.