Indian low-cost carrier AirAsia India has received clearance to operate flights under the Air India Express branding, as the consolidation of the Tata Group's airline businesses continues.
Air India Express and AirAsia India, the operating name for AIX Connect, says the "development marks a significant fast-tracking of the integration efforts, including harmonisation of customer touch points, products, and services across both airlines."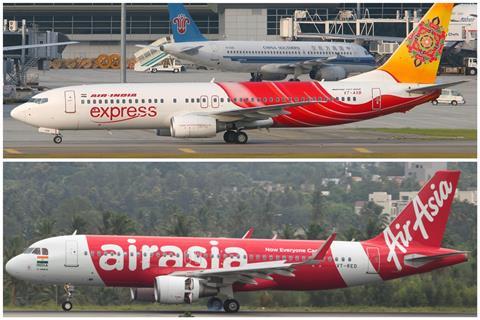 Air India Express and AIX Connect flights and services can now be marketed, distributed, and operated under the common Air India Express name.
"Over the past few months, Air India Express and AirAsia India have taken significant steps towards the integration," state the carriers.
This follows the creation of a unified website in March.
The Air India Express/AirAsia India merger is part of a broader restructuring, which will also see a merger between full-service carriers Air India and Vistara. Indian conglomerate Tata Group, the parent of Air India, owns 51% of Vistara, while Singapore Airlines owns 49%.
In its 27 July financial results, SIA had this to say about the merger plans: "Work continues on the proposed merger of Air India and Vistara, which will result in SIA taking a 25.1% stake in the enlarged Air India Group when the transaction has been completed. This will bolster the Group's presence in India, strengthen its multihub strategy, and allow it to continue participating directly in this large and fast-growing aviation market."