AirAsia Aviation has confirmed its fleet recovery remains on track, after it reaffirmed an engine support agreement with CFM International, whose engines power its entire fleet of Airbus narrowbodies.
In a statement issued 13 September, the low-cost airline group says it will have a fleet of around 200 Airbus A320 family aircraft by the end of the year, an unchanged forecast from fleet plans disclosed in late August.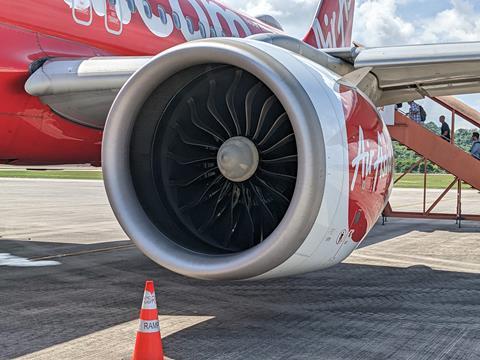 The statement comes as other Asia-Pacific airlines face potential schedule disruptions amid technical woes on the Pratt & Whitney PW1100G geared turbofan, which also powers the A320neo family.
P&W on 11 September said that around 600-700 engines must be removed and inspected for defective high-pressure turbine and compressor discs between now and 2026.
Meanwhile, AirAsia executives hailed the "refreshed agreement" with CFM, noting that the "fleet stability" is a "crucial catalyst" for its fleet recovery. The airline group's fleet is powered entirely by CFM engines, with its A320ceos equipped with CFM56-5Bs, and its A320neos powered by Leap-1A turbofans.
Says AirAsia Aviation chief Bo Lingam: "We are very pleased with the latest development on our engine supplier and service provider. This will accelerate our plan to bring capacity back, in fact more than 2019, as we will be more efficient."