AirAsia Aviation carriers see "sustained demand" in international travel demand amid a significant capacity ramp-up in the first quarter of the year, including resuming flights to Mainland China.
For the three months ended 31 March, the group – comprising units in Malaysia, Thailand, Indonesia and the Philippines – grew international capacity by 21% quarter on quarter, while domestic capacity remained stable, with a 2% growth against the previous quarter.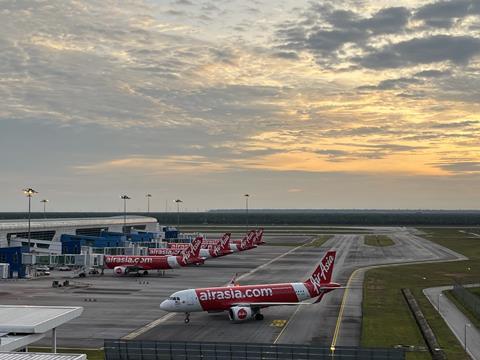 The four carriers carried about 13.1 million passengers during the quarter, more than twice the number flown in the year-ago period. Traffic was up three-fold, while overall capacity more than doubled year on year.
In operational statistics released on 26 April, AirAsia says its relaunch of Mainland China flights has gotten off to a strong start, with nine routes restarted and overall load factors at around 85%.
The Chinese network also makes up about 2.5% of total international passenger numbers, the airline group adds.
Among the AirAsia carriers, it is Thai AirAsia that saw the strong Chinese traffic rebound: the Bangkok-based unit reported load factors of around 90% on its flights to China. System-wide load factors was around 92%, one of the the highest in the group.
Thai AirAsia carried around 4.6 million passengers during the quarter, a three-fold jump year on year, with traffic growing four-fold.
As for AirAsia Malaysia, it carried 5.7 million passengers, of which 40% were flying on its international network. The carrier says the Lunar New Year holiday in late-January helped boost international flying, particularly on flights to and from Singapore, where passenger numbers accounted for 10% of total passenger volume.
Indonesia AirAsia flew 1.2 million passengers in the quarter, up three times year on year, with capacity growing three-fold and traffic up four-fold.
Philippine AirAsia, like Thai AirAsia, reported "remarkable" load factors during the period, at 92%. It carried 1.7 million passengers, more than twice the number reported last year.
"This was driven by full recovery of the domestic market and stronger demand for international destinations," says AirAsia.