Malaysian regulators have awarded air traffic rights for flights to Central Asia to Batik Air Malaysia and AirAsia X, as it records an uptick in applications against pre-pandemic 2019.
The Malaysian Aviation Commission (Mavcom) awarded air traffic rights to Batik Air Malaysia for daily flights to Tashkent in Uzbekistan, and approved AirAsia X's application for up to four weekly flights to Almaty in Kazakhstan.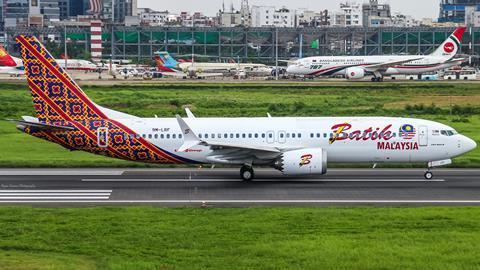 The two cities, which have not been served by any Malaysian operator, are among the 45 international and 12 domestic routes approved by the commission in the April-June quarter. Mavcom requires airlines to use their allocated rights within six months to avoid expiry.
It notes that the number of air traffic right applications from Malaysian carriers during the quarter grew 88% year on year. More significantly, the number of applications was 5% higher than the same quarter in pre-pandemic 2019, "signalling an invigorated momentum within the aviation sector", says the commission.
However, the commission, which did not disclose how many applications it received, says the number of applications fell 12% against the first quarter of 2023.
Among the other applications approved by Mavcom include applications by start-up MYAirline, which is looking to expand its international network to points in Indonesia (Jakarta and Bali), Vietnam (Da Nang and Ho Chi Minh City), as well as Thailand (Krabi and Phuket). The low-cost operator marked its international foray in June with flights to Bangkok
The commission also awarded rights for Capital A logistics unit Teleport for cargo flights to and from Hong Kong to Kuala Lumpur and the east Malaysian cities of Tawau, Kuching and Kota Kinabalu.
Teleport, which operates under sister unit AirAsia's air operator's certificate, took delivery of its first dedicated freighter, an Airbus A321 converted freighter, in July.
Says Mavcom executive chairman Saripuddin Kasim: "As part of the commission's continued efforts to ensure that Malaysia's aviation industry remains dynamic and responsive to global travel trends, we have approved [air traffic rights] for various new destinations as well as to establish new hub connections. These decisive measures are specifically tailored to enhance connectivity, spur economic growth, and catalyse the recovery of the aviation sector."