AirAsia X Group has posted an operating loss of MYR24.5 billion ($5.85 billion) for the quarter ended 30 June, widening significantly from a loss of MYR323 million in the year-ago period.
The group's revenue fell 21% at MYR72.3 million, the group says in its unaudited financial results disclosed to Bursa Malaysia on 27 September.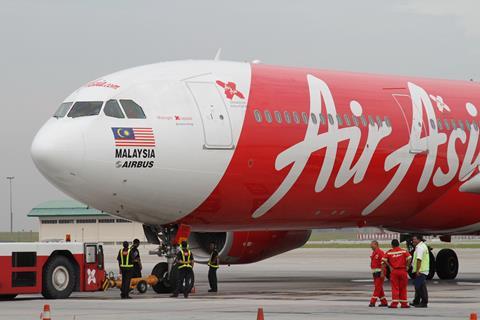 The bulk of revenue for the quarter came from freight services, at MYR40.7 million, followed by aircraft operating lease income at 23.5 million and MYR8 million from charter flights. It posted zero revenue from scheduled flights and ancillaries.
The Malaysia-based long-haul, low-cost carrier says net operating loss for the quarter also widened to MYR24.6 billion from MYR305 million loss in the year-ago quarter.
The group's cash and cash equivalents fell further to MYR68.5 million as on 30 June from MYR308 million at the beginning of the period.
AirAsia X's Malaysian unit posted an operating loss of MYR24.5 billion during the quarter, while the unit's revenue stood at MYR72.3 million.
Its Thai unit's operating loss was at MYR152 million while revenue was at MY94.4 million. Its Indonesian subsidiary recorded an operating loss of MYR1.08 million, having posted zero revenue for the quarter.
The group has changed its financial year end from 31 December 2020 to 30 June 2021, and as such offered no comparative financial information for the preceding year corresponding periods.
As part of plans to return to profitability, the group says it plans to focus on core markets to improve yield. Some of the initiatives include determining optimal flight frequency in line with passenger demand, focusing on mature routes in core markets with proven demand and terminating unprofitable routes.
The group intends to apply for a government guaranteed loan of up to MYR500 million under the Danajamin Prihatin Guarantee Scheme and is currently in talks with a financial institution to secure the loan.
AirAsia X also plans to return excess aircraft to lessors to operate a leaner fleet, and has currently returned one aircraft. It is also in talks with lessors to reduce future lease rental rates and maintenance service providers to reduce future maintenance costs.