Supply-chain challenges are continuing to slow the production and maintenance of commercial aircraft, but OEMs express cautious optimism that the situation will improve towards the end of next year.
Speaking at the European Regions Airline Association General Assembly in Innsbruck on 11 October, executives from Airbus and Embraer joined airline leaders in acknowledging that the main driver of the challenges is a lack of skilled workers – a dynamic not unique to the air transport sector but one that it feels acutely.
"The number one challenge across the industry is the global skills shortage," Claude Debeauquenne, Airbus' head of single-aisle market development, tells FlightGlobal. "We need more people and we need more skilled people.
"This is something that we see with our customers, with our partners and of course this is something that we see at Airbus as well."
And it is not something that can be fixed overnight.
"We are seeing it improve slowly," Embraer Commercial Aviation chief executive Arjan Meijer said during a panel discussion. He predicts noteworthy improvements in supply chains "not by the end of this year but probably next year".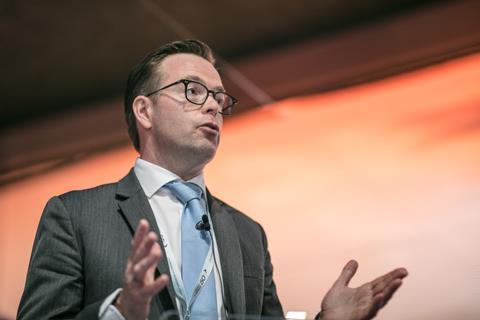 Debeauquenne concurs with Meijer on that timescale.
"We see a continuation of those difficulties going into next year," he says. "And then hopefully [they will] probably ease and [there will be] a bit more flexibility in the system by the end of next year."
Airbus, he notes, is taking on 13,000 new members of staff in 2023 as it stays "on the trajectory of being able to meet demand" for new aircraft, which, he highlights, is incredibly strong.
Indeed, Debeauquenne is keen to stress that Airbus is still aiming to reach a production rate of 75 per month on the A320 programme, for example, by the end of 2026 – a marked increase on the 63 per month it was producing pre-pandemic.
But both executives accept that even with new staff joining, there is work to do to achieve pre-Covid levels of productivity.
"There [are tasks that require] very specific knowledge in our industry, to create very skilled elements, and we've retired people during Covid that have 25, 30, 40 years of experience and then we brought younger people into the same roles," Meijer says of aerospace supply chains.
"So you see that the yields of production are not where they should be and that starts to roll through the whole production," he continues. "You can say 'it's the engine' [causing aircraft groundings, for example] but it's actually certain parts of the engine, and it you look at certain parts of the engine it's certain skills that are missing."
Debeauquenne also highlights that lost expertise throughout the industry.
"The entire supply chain had to somehow downsize operations," he says of the Covid-19 crisis. "It was the same for us as well.
"Then restarting operations, you probably need a bit more skill and staff to be able to produce the quantity that you need."
Speaking on the same panel as Meijer, the chief executive of KLM Cityhopper, Maarten Koopmans, offered the airline perspective on the challenges created by supply-chain snags, claiming that while most businesses needed to lay off staff during the pandemic, "some of the OEMs have done that a bit too rigorously".
In common with many of his peers, Koopmans reports his airline is "struggling quite a bit at the moment" with the impact of expertise shortages at OEMs and MRO providers, with aircraft being grounded for extended periods.
Likewise, the chief executive of regional carrier Danish Air Transport, Jesper Rungholm, shares his frustration regarding grounded assets.
"We currently have two complete functional aircraft except for one line item waiting on the ground, waiting for parts," he says.
Acknowledging those challenges, Meijer points out that the air transport sector is "so connected" and that compromises are few and far between, meaning a relatively small issue can have a significant impact on a variety of stakeholders.
"If we build an aircraft we need hundreds of thousands of parts – the problem is that it only flies if all the parts are on it," he states.