Spare parts availability and supply chain issues continue to vex airlines, who feel that manufacturers could do more to address the issue.
The chief executives of Vietnam Airlines and Philippine Airlines both highlight the issue, as does IATA director general Willie Walsh.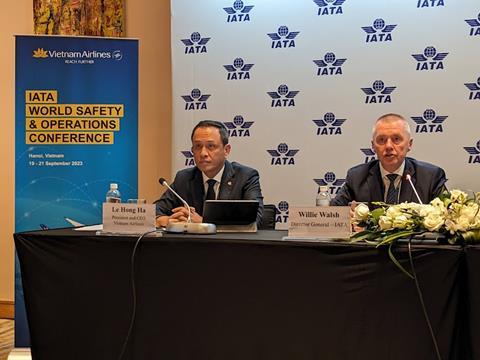 "Supply chain is very important for airlines and any interruption can seriously affect our operational performance," says Vietnam Airlines chief executive Le Hong Ha.
He believes that better demand forecasting models could help, as well as greater cooperation among airlines, suppliers, and stakeholders in the supply chain. He also feels manufacturers should prioritise existing customers for aircraft and engines over new deliveries.
"Spare parts and engines are provided to new customers while existing aircraft are on the ground, it's not good," he says.
Stanley Ng, president and chief operating office of Philippine Airlines shares Ha's view that manufacturers need to focus more on existing operators. He observes that if an airline has a grounded aircraft, it still needs to make payments while no revenue is coming in.
"The solution is really to give those (new) engines to existing customers, Instead of mounting them on new planes for delivery," says Ng. "Because at the end of the day it's about the long term relationship with your existing customer."
Both carriers operate A320neo family aircraft powered by the Pratt & Whitney PW1100G engine, which has had a troubled service entry. Adding to the engine's challenges, on 11 September P&W parent RTX said that between now and 2026, around 600-700 engines must be removed and inspected for defective high-pressure turbine and compressor discs.
Walsh says spare parts challenges started to become a real issue in 2022, and that the problem is not getting better. He also specifically called out the challenges around the PW1100G. He foresees supply chain and spare parts challenges continuing into 2024.
"We see a continuing strong demand for travel, but supply is being constrained as a result of the supply chain problem in the industry," says Walsh.
"In addition to the solutions that are offered already, I think there is a need for the manufacturers to recognize the scale of the problem and admit openly the challenges that they face and be more realistic about the outlook for recovery. It is causing a lot of frustrating in the industry…and it is a consistent thing with every airline CEO who I meet.
The three airline leaders made the remarks at IATA's World Safety & Operations Conference held in Hanoi, Vietnam. In addition to bringing together airlines to discuss safety, cabin operations, flight operations, and emergency response and aircraft recovery, the conference also saw IATA announce that over 20 airlines have signed the new IATA Safety Leadership Charter, which aims to boost the industry's safety culture.
Given the supply chain issues the industry faces amid a time of rising demand, Walsh was asked if this could affect safety.
"The industry remains very much focused on safety," says Walsh. "I don't believe any airline will comprise on safety, and I don't see any evidence of this being the case….it's frustrating for airlines because they would like to be doing more, but they're not compromising on safety."