The global airline industry's fortunes have improved since IATA's mid-year financial forecast for the industry, according to the association's chief economist Marie Owens Thomsen, with positive factors continuing to more than offset negative ones.
Speaking to FlightGlobal at the IATA World Sustainability Symposium in Madrid on 3 October, Owens Thomsen cited a stronger-than-expected recovery in global airline traffic, saying that the "sweet spot" the industry was in earlier this year is "maybe even sweeter" today.
By the end of this year, "almost everybody will be back to 2019 levels except China", she says of the global traffic recovery to pre-Covid levels, which IATA expects to be achieved on a whole-industry basis in 2024.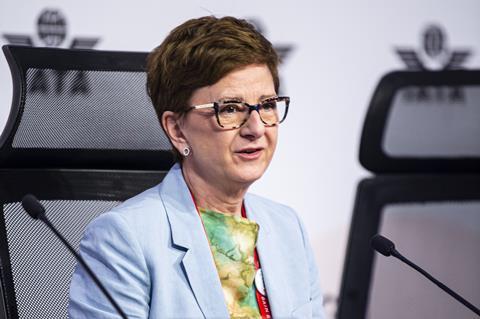 IATA's latest traffic and capacity data – released on 4 October – shows that in August this year, global revenue passenger kilometres were at 95.7% of 2019 levels, with available seat kilometres at 96.9%. Within those figures, North American and Latin American airlines were already exceeding 2019 traffic, with every other region within a single-digit percentage point of doing the same.
That strong traffic trend is one contributing factor to IATA's likely upgrading of its projection that the industry will achieve a net profit margin of 1.2% this year, Owens Thomsen says.
Other factors continue to underpin that performance, she states, crucially including relatively low unemployment rates globally, despite economic challenges, which are proving to be a "greater positive than the negative effect of the high inflation rates", she explains.
"Certainly in my 30 years in finance as a macro-economist I have never seen anything like it," she says, comparing today's "jobs rich" recovery with the "jobless" recovery that followed the financial crash in 2008.
"As long as people are earning an income, they can still fly," she says.
Having low unemployment rates and clear evidence that people are keen to travel is reassuring when it comes to the demand outlook, Owens Thomsen suggests, and is a more pertinent way of framing the market than notions of post-Covid 'pent-up demand'.
She further cites the supply-side challenges faced by airlines, particularly when it comes to securing new aircraft in a timely manner, suggesting that while this is "not a particularly positive phenomenon", it is bringing benefits to an industry that "often suffers from over-capacity".
"Load factors are high, so planes are flying pretty full," she says. "That obviously contributes to yields and the financial performance for the industry."
That situation is likely to "dissipate" as OEM delivery performance improves, Owens Thomsen says, bringing the risk of falling yields, but the impact will depend on the strength of demand when it happens.
WHAT ARE THE RISKS TO POSITIVE OUTLOOK
While the current trends are positive, however, risks remain.
"The risks are still probably stacked on the downside," Owens Thomsen states, highlighting concerns about China's economy as an example and also citing how close the USA recently came to a government shutdown.
Key to maintaining the current positive economic environment for airlines, she suggests, is global GDP growth staying "in the vicinity of 3%".
"There might be something in the idea that perhaps if the global economy slows significantly below 3%, certain unemployment rates are going to rise," Owens Thomsen states. Equally, she adds, the current "stable equilibrium" of low unemployment might endure, should GDP growth hold up.
But in any economic slowdown, the airline industry's lack of "robustness" would come to the fore, she says.
"Over and over again, this industry demonstrates its resilience… its ability to bounce back when it's knocked down," Owens Thomsen says. "Yet what the industry still struggles with is robustness… [or] financial sustainability."
IATA's original financial forecast for 2023, for example, showed a profit per passenger that would not buy a cup of coffee in most markets.
"I would love this industry to be regularly producing positive cash flow… and somehow managing to eke out a situation where there's perhaps less volatility in the earnings," she states.
But Owens Thomsen says this is unlikely without a fundamental change to the industry's cost structure – one that would enable airlines to "claw back some of the power that they might have over their upstream costs".
The net-zero transition could offer such opportunities through, for example, airlines taking control of sustainable aviation fuel production, although she acknowledges little industry appetite "to become fuel producers" at this point.
Still, she contrasts the airline industry's razor-thin profit margins of low-single-digits with those in the energy sector, which can be closer to 30%.
"There's no doubt about where our money goes," she states.
For now, Owens Thomsen is clear that the industry's recovery has been "nothing short of phenomenal", saying: "I can't think of any other industry that has experienced such deep catastrophic hits and then managed to rebound in the space of three years."
While IATA often focus on industry-level and regional data, there have been some indications in recent weeks from individual airlines that alongside rising costs as fuel prices increase, the demand outlook has shown signs of weakness.