Airlines are poised to ramp up capacity into Phuket, where a quarantine-free 'Sandbox' will open on 1 July.
The plan will allow vaccinated travellers into the Sandbox without having to serve quarantine – although they will confront a plethora of requirements and restrictions.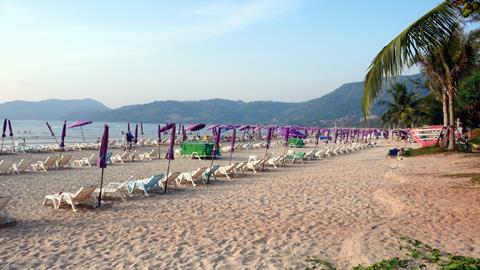 The initiative is aimed at injecting a healthy dose of tourism dollars into Phuket's tourism-dependent economy, which has been shattered by the coronavirus pandemic. Thailand hopes to use the Phuket experience as a model to open up the entire country in mid-October.
Airlines are ready. According to Cirium schedules data, Phuket will see 200,000 inbound seats in July, up from just 45,000 seats in June. Aircraft arrivals will quadruple to 1,054, compared with 257 in June. Given a good deal of the growth comes from long-haul, widebody types, ASK capacity to Phuket will rise tenfold.
International carriers such as Air Arabia, Emirates, Etihad, Oman Air, Qatar Airways, Oman Air and Turkish Airlines are all jumping into the market after long absences during Thailand's closure.
Thai carriers are also boosting capacity from Bangkok, and Thai Airways International will operate direct services to Phuket from Northern Europe, including five services from London Heathrow with Boeing 777-300ERs.
Media reports from Phuket suggest that cases on the resort island, which has seen an aggressive vaccination campaign, are in the single digits daily – as compared to the rest of Thailand, which is recording nearly 5,500 cases daily. There is a review mechanism for the Sandbox should Phuket's cases also spike.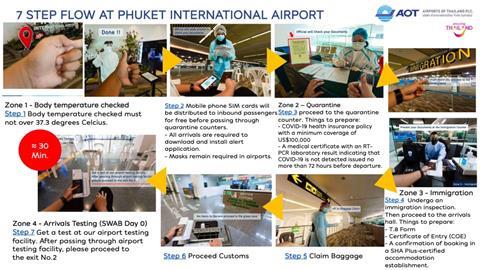 One challenge for the Sandbox will be the hoops flyers must jump through, including proof of two Covid-19 vaccine injections and a negative Covid-19 test. They must also have proof, in English, they are insured for at least $100,000 in the event they incur Covid-19 related medical expenses in Thailand.
Arriving in Phuket itself, flyers could face bottlenecks. Everyone will be issued with a free SIM card that they must install in their phone. They are then required to download a local "instant alert application". Assuming the SIM cards work, download speeds are sufficient, and the app functions as planned, passengers will then undergo several documentation checks – a torturous process in Thailand even before Covid-19.
Finally, after customs, there is another Covid-19 test. Only then can travellers depart the airport.
The lengthy pre-entry to-do list could put off all but the most determined travellers. Further, exhaustive document checks at the airport will increase processing times. The Phuket experience could make a compelling case for governments to adopt digital travel passports, such as that put forward by IATA.
Irrespective of the hoops passengers must jump through to visit Phuket, airlines have pounced on the opportunity. August will see even more capacity enter the market, with airlines boosting Phuket-bound seat capacity by 74.3% to 348,000 seats. By December, this will rise to 494,000 seats.