Indian low-cost carrier Akasa Air is "still on track" to announce a potential order for at least 100 new aircraft – and announce its first international routes – by the end of the year.
Speaking with Indian news outlet The Economic Times, Akasa chief Vinay Dube says it is "our intent to order 100-plus aircraft…between now and the end of the year".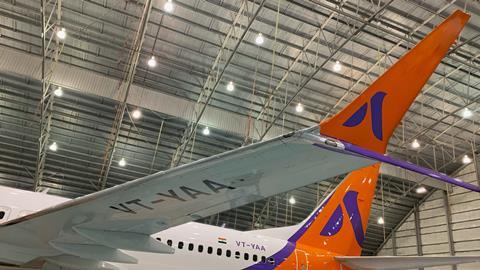 His comments follow Akasa's order for four 737 Max 8s at this year's Paris air show, taking its total commitments to 76 examples.
Dube, who is also in Akasa's founding team, told The Economic Times that the four-aircraft commitment is not "superseding" the airline's intent for a larger aircraft order. At the Paris air show, compatriots Air India and IndiGo each placed big orders with Airbus and Boeing.
In March, Dube told FlightGlobal that the airline intended to make a "much larger aircraft order" by the end of this year, and that the 737 Max is expected to be a mainstay of the fleet.
He had also disclosed the airline's plans to launch international flights, pointing out network opportunities in the Middle East and Southeast Asia.
In his latest interview, Dube confirms the airline is "still on track" for international flights with the imminent arrival of its 20th 737 Max. He did not disclose what its initial network will comprise, citing ongoing work to secure regulatory approvals.
The airline – backed by the late billionaire Rakesh Jhunjhunwala – is approaching its first year of operations. It began flying in August 2022 with an initial network of four domestic points.