On the site of a former sugar beet mill in eastern Washington, carbon transformation company Twelve has broken ground on a new plant that promises to convert carbon dioxide into jet fuel that could one day power some of Alaska Airlines' Boeing 737s.
"I am honoured to kick off this celebration of a new chapter in aviation, and an important step in the fight against climate change," Nicholas Flanders, co-founder and chief executive of Twelve, said during a 11 July ground-breaking celebration. "The plant built at this site will supply the world's first regular commercial service on a fuel made from CO2."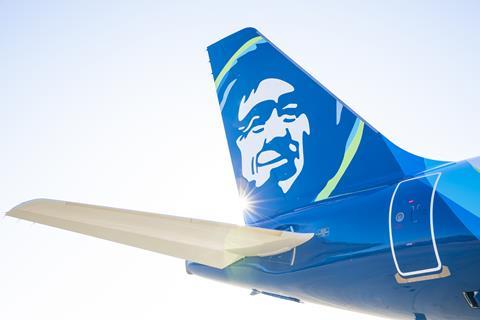 California Bay Area-headquartered Twelve says fuel production at the "commercial-scale" facility will begin in mid-2024, and that it will eventually supply Alaska with a steady diet of so-called "E-Jet" fuel produced at the Moses Lake plant.
Built on 5.7ha (14 acres), the plant will initially be capable of producing roughly 151,417 litres (40,000gal) of SAF annually, with plans to increase capacity late in 2024. Alaska, Microsoft and Shopify will be the plant's first customers, Twelve says.
For co-founders Etosha Cave, Kendra Kuhl and Flanders, early construction of the plant marks a hard-earned transition to deploying and scaling Twelve's technology.
"When we decided to pursue the vision of carbon transformation company almost a decade ago, we knew the work would be challenging, but we knew that if we got the technology to work that it would have a tremendous potential for impact," Flanders says.
The company says carbon transformation has potential to "address up to 10% of total global emissions and up to 50% of difficult-to-decarbonise industrial emissions".
POWER-TO-LIQUID FUEL
Twelve's technology turns CO2 into chemicals, materials and fuels that have conventionally been made with fossil fuels, using an electrochemical reactor and "proprietary catalysts" to convert energy, water and carbon into usable products.
The company has used the process to produce marine fuel, an ingredient in laundry detergent, car parts and sunglasses.
Its E-Jet product is a power-to-liquid fuel that is designed to drop-in and work "seamlessly with existing aircraft" without modifications or new infrastructure, the company says, adding that using its SAF will present "no trade-offs in performance, efficacy or safety".
Twelve touts that its technology does not require using crops as feedstock for jet fuel, as land-use constraints represent a major barrier to ramping up production of sustainable aviation fuel (SAF). Namely, using land to grow crops to be converted into SAF could drive up food prices.
Speaking during the ceremony, Washington governor Jay Inslee alluded to how Twelve's approach avoids the issues that could come along with using corn and vegetable waste as primary feedstocks for SAF.
"There are many, many ways to use existing feedstocks, but think about the beauty of using carbon dioxide as a feedstock," he says. "You're using the enemy and making it your servant… It is kind of like [if] Superman figured out a way to use kryptonite to power himself."
Inslee recently signed into law tax credits of up to $2 per gallon to encourage SAF production in Washington, and has a track record of championing low-carbon aviation technologies.
Notably, the first flights of Eviation's all-electric Alice aircraft and Universal Hydrogen's partially hydrogen-propelled De Havilland Canada Dash 8-300 took off and landed at Moses Lake's airport in Grant County.
SAF: 'INCREDIBLY EXPENSIVE'
Scaling production of SAF remains major challenge. Less than 0.1% of jet fuel burned globally is said to be sustainably derived, according to a March report from the US Government Accountability Office.
Ann Ardizzone, vice-president of supply chain for Alaska, acknowledges that commercial aviation is one of the most difficult sectors to decarbonise. But the carrier still has high ambitions for cutting emissions – and, like the broader airline industry, has made SAF the focus of its strategy.
"We have a goal of being carbon neutral by 2040, and we'd like to be using 10% SAF by 2030," she says. "That doesn't sound like such a big goal, but it's actually extremely hard. Today, I can rarely buy SAF and if I can, it's incredibly expensive.
"You have to realise, as an airline, a third of our cost structure goes to fuel," she continues. "If you're buying SAF today at two, three, four, five times the cost of Jet-A, it's pretty quick arithmetic to figure out that doesn't work."
Alaska is therefore interested in Twelve's proposal to make SAF more affordable and accessible, and "particularly interested in diversity of supply", adds Ardizonne.
SAF is only one aspect of Alaska's decarbonisation strategy, which encompasses greater operational efficiency, fleet regeneration, new technology and carbon offsets. But SAF is the biggest piece of the puzzle, she says: "We think the technology that Twelve is going to bring about to scale is probably one of our most important levers."