Canada has taken the first tentative steps of easing its coronavirus quarantine rules, rolling out a programme aimed at allowing air passengers arriving in Calgary to sidestep quarantine requirements.
Under pilot programme starting 2 November, some international travellers arriving there will be able to take a "rapid" Covid-19 test, the Alberta government says.
WestJet, which is based in the Alberta city of Calgary and stands to benefit from the programme, says test results could return within two days.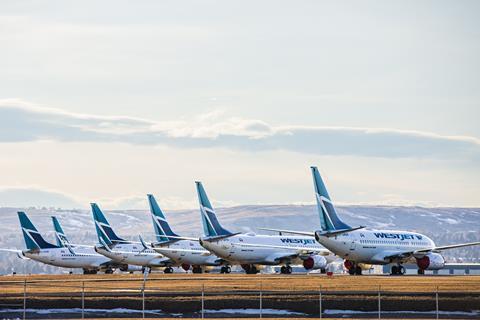 Travellers will still need to isolate between arrival and receiving a negative test result, which would then exempt them from Canada's required 14-day quarantine, says Alberta.
Participants must also commit to taking a second Covid-19 test within six or seven days of arrival.
The trial "will explore the feasibility of using a rigorous testing and monitoring programme as a strategy to reduce the mandatory quarantine period, while keeping Canadians safe", says Alberta's government.
The programme is a joint effort between the governments of Alberta and Canada, and according to WestJet will initially last 26 weeks.
Only Alberta residents and "eligible international travellers arriving on a nonstop flight into Calgary" are eligible to participate in the pilot. Passengers connecting to other flights within the province may take part.
"Participants will be closely monitored through daily symptoms checks. They will also be required to follow enhanced preventive health measures, such as wearing masks in public places and avoiding visiting high-risk groups," Alberta adds.
Canadian minister of health Patty Hajdu calls the programme "part of our efforts to gradually restart economic activity and keep protecting Canadians".
The effort follows months during which Canadian airlines and trade group IATA urged Canada's government to aid the country's ailing airlines, either through financial aid or eased travel restrictions, or both.
WestJet and corporate low-cost airline sibling Swoop operate a sizeable Calgary operation. From Calgary they serve several international destinations, including London-Gatwick airport, three cities in Mexico and six in the USA, according to Cirium fleets data.
US regional airlines Envoy Air and SkyWest Airlines also serve Calgary, and KLM flies there from Amsterdam, data shows.